[recipe originally by Ruth from Once Upon A Feast]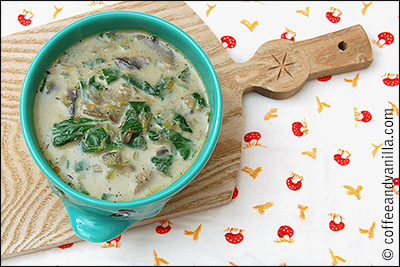 INGREDIENTS
3 large leeks – about 500g (halved lengthwise, sliced)
2 tbs olive oil or 25g unsalted butter
500-600g chestnut mushrooms or white button mushrooms (sliced)
300g fresh spinach leaves (chopped)
300-400g new potatoes (coarsely cubed)
1500 ml hot water
4 vegetable cubes (10g each)
sea salt
black peppercorns
1 tbs dried thyme or even better some fresh / frozen thyme (stems removed)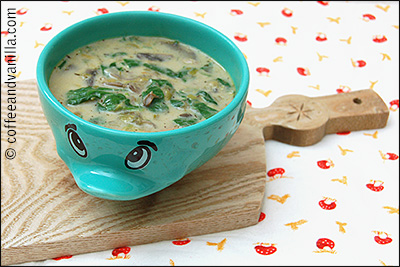 METHOD
On he bottom of large pot sauté leeks on half of the oil or butter till soft.
Then add the rest of the oil or butter, mushrooms and potatoes, sauté for another 5 minutes.
In meantime dissolve cubes in hot water to create broth.
Add the broth to the pot with leeks and mushrooms, cover and cook on medium fire for about 20 minutes.
Remove from fire, add spinach and stir well.
Mash some of the potatoes for the soup to look creamy, season with salt and freshly ground pepper and serve to the plates.
Serve 4-5 people.
NOTES
Skip the potatoes, add a bit of crème fraîche to make the soup creamy and serve with freshly baked bread sticks as like to do sometimes.
Update:
I posted this article originally on 9th of March 2008, I'm reposting it now as I have updated images and recipe itself as well.
Similar soup recipes from other blogs:
Michelle garnished her leek & potato soup with chopped chive and served it with toasted baguette and Gruyère cheese.