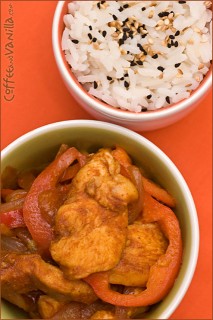 INGREDIENTS
700g chicken breast (cubed)
2 onions (cut into wedges)
50g unsalted butter
1 sweet red pointed pepper (sliced)
2 tbs mild smoked paprika powder
1 tbs Adobo seasoning
2 tsp kalonji / nigella / black onion seeds
1 tbs sesame seeds
cooked rice to serve
METHOD
Toast sesame and nigella seeds on frying pan, for couple of seconds, until fragrant, keep aside.
In a deep frying pan or wok fry chicken and onions on butter, seasoned with Adobo and smoked paprika powder. When chicken is ready and onions soft, stir in red pepper and remove from fire, mix well.
Serve over rice sprinkled with toasted seeds.
Serve 6 people.
You can optionally serve it with Turkish flat bread with nigella and sesame seeds, buttered or with a little bit of mayonnaise, instead serving it with rice sprinkled with seeds.