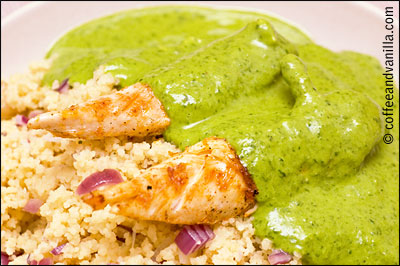 INGREDIENTS
for green sauce

1½ cups fresh coriander leaves (stems removed)
1 cup or a little bit less of cold water
½ large lemon juice
1 medium avocado
4 garlic cloves
salt to taste
freshly ground black or rainbow pepper to taste
mayonnaise, soured cream or natural yogurt to taste
for smoked chicken
800g chicken breast
smoked paprika
salt
a little bit of oil for brushing chicken
ribbed cast iron grilling pan
silicon brush
for coriander and red onion couscous
500g couscous
boiling water
2-3 white onions – about 300g (cut into slim wedges)
3 tbs oil (I used corn oil)
2 small red onions – about 150g (chopped finely)
1 cup fresh coriander leaves (chopped)
METHOD
To make green sauce blend all ingredients, except salt, mayonnaise and pepper, in a food processor, adding water gradually.
At the end add some mayonnaise, season with salt and pepper, stir one more time and keep aside.
To prepare couscous first caramelize onions on oil, on the bottom of large pot. Then add couscous and fry for a while, add hot water gradually, stirring constantly. Add also Vegeta and red onions. When couscous is ready remove from fire, stir in coriander.
In meantime brush chicken with a oil, sprinkle with smoked paprika and salt and grill on low fire, turning once, till ready. Leave aside in a warm place.
Share couscous to the plates, top with smoked chicken and green sauce.
Taste good warm.
Serve 5 people.
NOTES
I had similar salad last night in Blue Print Cafe, London on the wedding party of my friends Andrea and Peter… it was so delicious that this morning my Michael went to the shop to get all ingredients and we were trying to recreate it having only our "blurry" memories as a recipe… ;)
Optionally you can also add some grilled bacon (chopped) to the couscous just before sharing it to the plates.