[recipe adapted from Real Epicurean]
I have been trying to make Polish cheesecake several times now but it was always a disaster. Scott's recipe is delicious and also closest in flavour to the sernik from my childhood memories…
There are different types of cheesecakes, some are baked when others do not require oven, some are made out of ricotta, cream cheese or other types of white cheese.
This is traditional Polish baked cheesecake recipe using real curd cheese rather than cream cheese.
INGREDIENTS
for cheese filling
1.5 kg curd cheese / hard cottage cheese (I used half fat)
60 g packet of vanilla budyń powder – Polish vanilla custard in powder (I used Winiary)
6 medium eggs (egg whites and yolks separated)
125 g / half bar unsalted butter (melted and cooled down)
2½ tsp baking powder
150 g / ¾ cup white granulated sugar
3 tbs vanilla sugar
2 handfuls of raisins (soaked in hot water, drained) – optional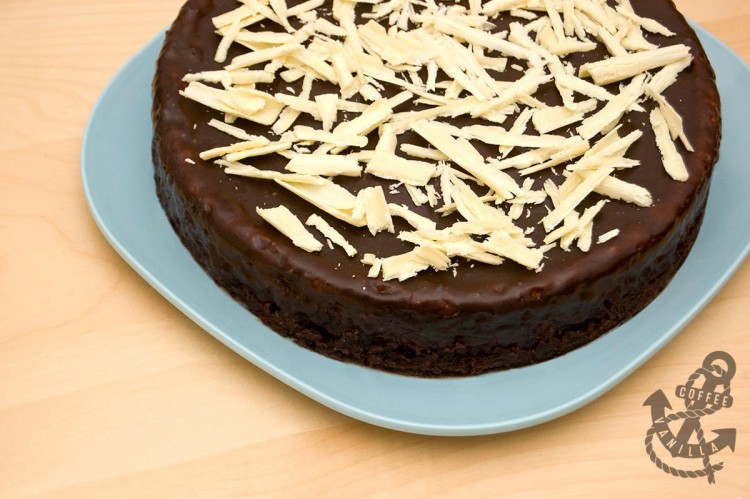 for cake base
300 g / 2⅓ cup plain flour
2 medium eggs
2 tsp baking powder
125  g / half bar unsalted butter (melted and cooled down)
75 g / a little bit less than ½ cup white granulated sugar
for chocolate topping
200 g unsalted butter
4 tbs vanilla sugar
200 g / 1 cup white granulated sugar
4 tbs cocoa powder
5 tbs cold water
white chocolate bar to do shavings for decoration or other decorations depending on the occasion, for instance mini chocolate eggs for Easter – optional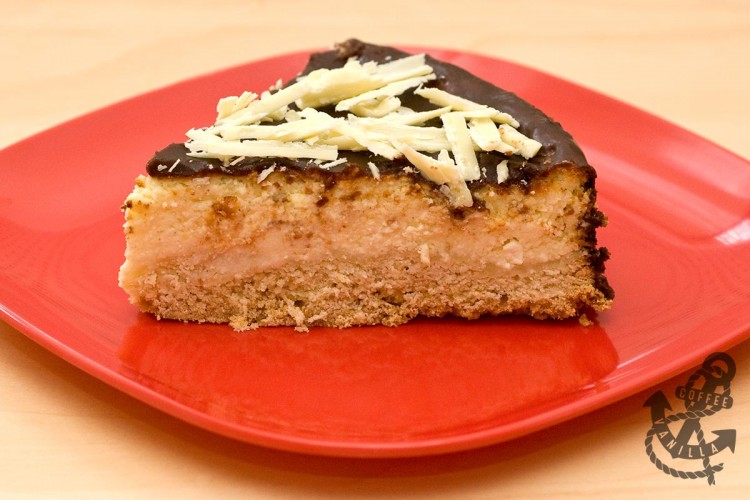 EQUIPMENT
potato masher
two 9" (22,8 cm) round non stick cake tins with removable bottoms or any other tins plus some
more unsalted butter to butter the tin
whisk to beat the egg whites
silicon pastry brush or spatula
METHOD
In a large bowl mash the cheese, add egg yolks, raisins if used, melted butter, vanilla budyń powder, baking powder, sugar, vanilla sugar and mix well.
Beat the eggs till soft picks are creating, add to the cheese mixture and stir one more time. Leave aside.
Combine all ingredients, except the butter, for cake base and mix. At the end add butter.
Using your hands knead the dough for a while to achieve even texture, divide into two balls.
Place each of them on the bottom of the baking tin and spread evenly.
Pour over cheese filling.
Bake in preheated oven to 180°C (356°F) for about an hour till golden brown on the top.
Let the cakes cool down.
In meantime prepare chocolate topping. In a small saucepan combine all ingredients, except white chocolate, and cook stirring instantly till bubbling. 

Leave aside to cool down a little bit.

When the cakes are cold remove from the baking tins, spread chocolate topping all over them with pastry brush or spatula.

Place in the freezer to cool down.

When chocolate topping is almost dry you can sprinkle it with white chocolate shavings, I made them using cheese cutter. 

Store in the fridge, serve cold.
This recipe makes two 9" (22,8 cm) cakes.
NOTES
If you are using rectangular baking dish / tray, you may pour chocolate topping all over it before removing from the tin and then cut cake into squares.