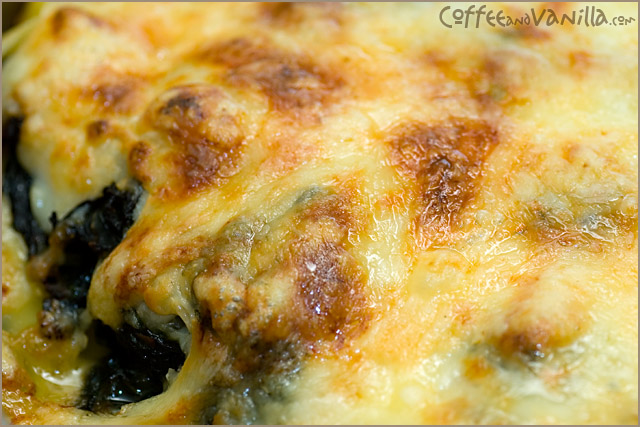 INGREDIENTS
1kg frozen leaf spinach
½ cup hot water
2 large onions – 600g (chopped)
700g mushrooms (chopped)
3 tbs grape seed oil
salt to taste
ground nutmeg to taste
10g unsalted butter (to butter the tin) or some olive oil and silicon pastry brush to brush baking tin
250-300g lasagne sheets (15 sheets)
5 handfuls of grated cheese
for béchamel sauce
100g unsalted butter
1 cup flour (125g)
4 or a little bit more cups of milk
salt to taste
rainbow peppercorns or black peppercorns
EQUIPMENT
large baking dish that can fit 5 lasagnas or 5 individual sandwich trays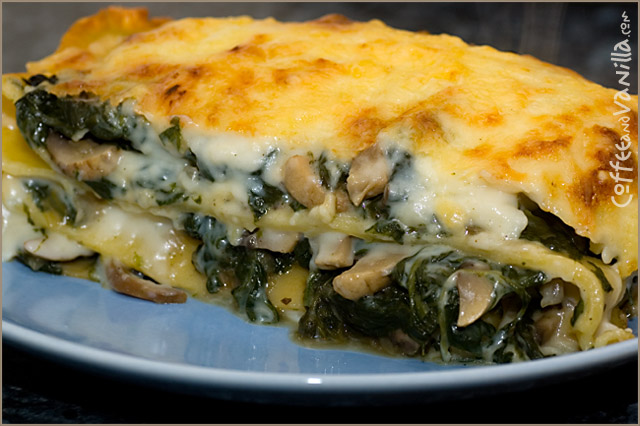 METHOD
Place spinach and boiling water in a pot and cook covered till soft, and no more water left. Leave aside.
On oil fry onions till golden, and mushrooms, season with nutmeg and salt, stir in spinach and still fry till all water is gone.
In meantime prepare béchamel / bechamel sauce: melt butter and gradually add flour and milk to the pot, season with salt and freshly ground pepper.
Butter the tin / tins. To the pot with boiling water put 5 lasagne sheets at the time. Cook them till they get soft, but don't let them stick together. Place them on the bottom of the tin / tins, top with ⅓ of the spinach mixture and ⅓ of the béchamel sauce, repeat the same with the rest of the sheets, filling and the sauce.
Top sprinkle with grated cheese.
Preheat oven to 180°C (356°F) and bake lasagne for 20-30 minutes till cheese turn golden brown.
Makes 5 quite large lasagnas (3 layers each).