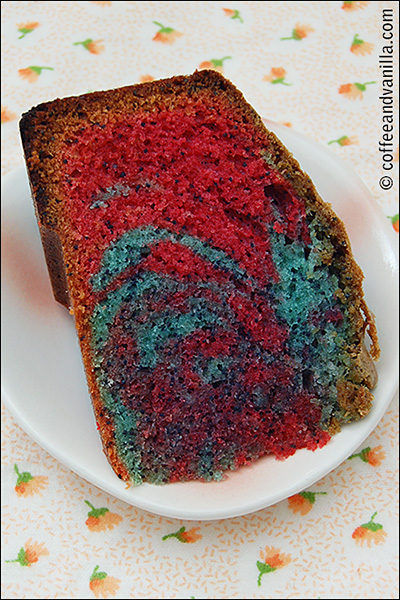 INGREDIENTS
2 cups plain flour
2 tsp baking powder
200 g unsalted butter – a little bit less than a bar (chopped and softened)
2 cups caster sugar
6 large / 8 smaller eggs
some poppy seeds (girls used about 8 tbs)
food colouring (girls used red and blue)
EQUIPMENT
9" (22,8 cm) silicone cake baking mould
wooden skewer
2 mixing bowls & spoons
METHOD
Preheat the oven to 180°C (356°F).
Soften the butter either leaving it out earlier in room temperature or in microwave for about 40 seconds on full speed.
In each mixing bowl combine half of the flour, baking powder, butter, eggs and poppy seeds. Add one of the colours and mix well.
Pour the mixture into silicone baking mould one after another… girls are still working on how to achieve better pattern.
Bake for about 1 hour / 1 hour & 15 minutes. Check with the skewer if the middle of the cake is ready.
Remove from the oven.
Let the cake cool down completely before sharing.
Make 8-12 servings.
NOTES
To make the cake more fluffy septate egg whites from the yolks and beat them before folding into the batter.
Marissa (7) and Ella (2) made this cake for me for Mother's Day (!)