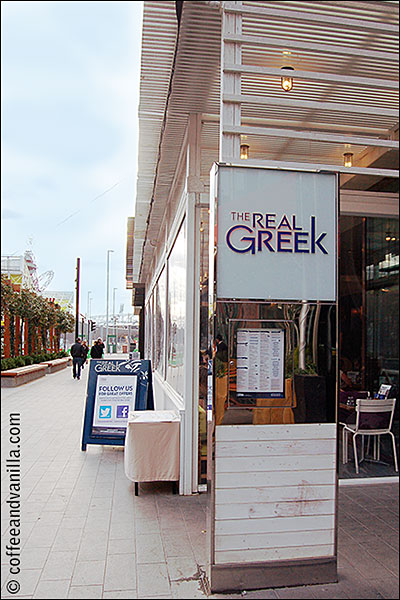 Recently I have visited The Real Greek at Stratford for the very first time. It is located on Chestnut Plaza, ground floor, outside of the Westfield shopping centre. The restaurant does look a bit modest from outside, but as soon as you enter inside you can feel warm, relaxed atmosphere, just like on one of the Greek islands (that is how I imagine them at least).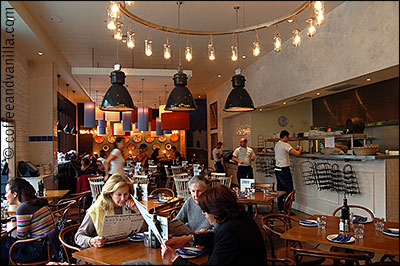 The Real Greek interior is dominated by giant chandelier almost like from "Zorba the Greek" musical, shelves full of wine, decorative plates on the walls, solid wood tables and garlic bunches hanging on the blue Mykonos style door turned into cupboards.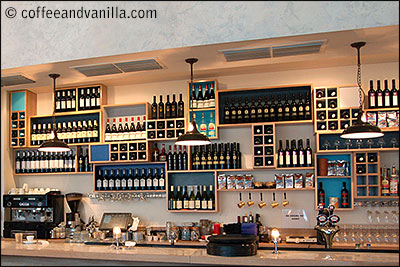 On the entrance you may also notice lots of books on Greece and little console table with Greek Mythology.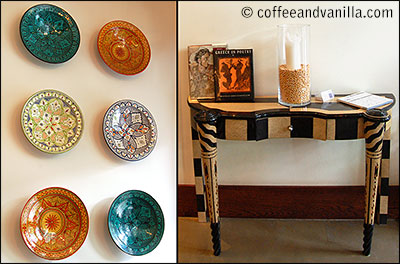 Our visit to The Real Greek was more of a coincidence than planned visit… together with Michelle, Fiona and Solange we came to review Thai restaurant actually hat apparently hasn't been open yet (!) But it was a good thing, if not this little mix-up I wouldn't be able to experience delicious Greek cuisine.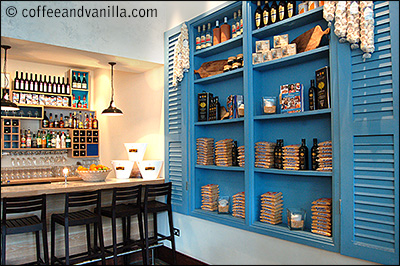 The day was rather cold so we stayed inside but scent of char-grilled meat and vegetables from in front of the restaurant was making me very hungry for something smoky…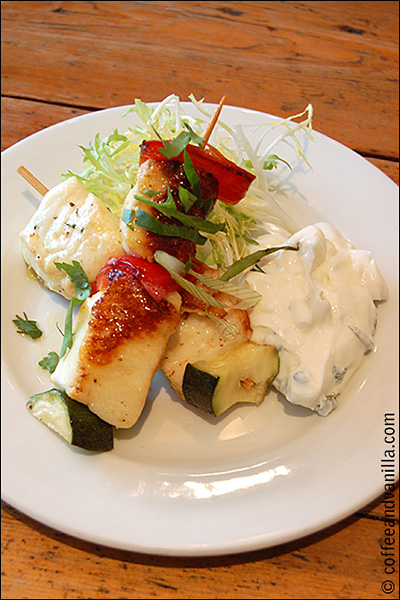 so I ordered  Halloumi & Vegetable Skewers (£5.00), delicious marinated then grilled halloumi cheese, juicy and smoky onions, peppers and courgettes, with delicate reserved lemon mayonnaise on a side and leaves. Definitely one of the dishes to  remember for future.
We have ordered also Greek Flatbread (£2.50) that was very soft, moist and moreish, Tabouleh Salad (£4.25) which was very refreshing. The third thing on pictured below stand was Melitzanosalata (£4.25) – mixture of smoked aubergine, garlic, shallots and lemon. Both dishes were rather lemony, cooling, perfect to complement any heavier dish you may order, fully recommended.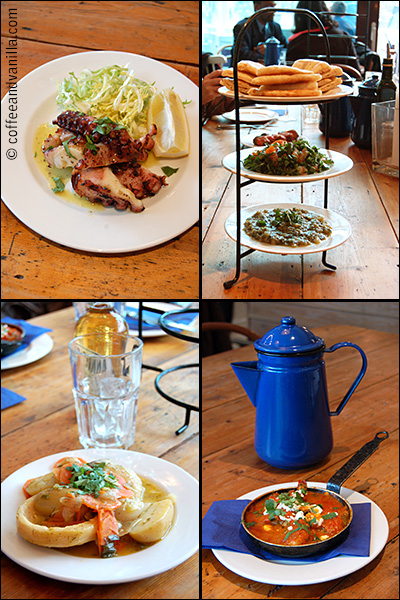 Vegetarian artichoke stew Artichoke a la Polita (£5.75) by chef & TV presenter Tonia Buxton was lovely, I haven't had artichoke before and I could not stop tasting it.
I haven't tried (as I don't eat sea food) Grilled Octopus (£7.25) tossed in olive oil, garlic and oregano or Prawns with Feta (£6.75) in tomato sauce  but they were looking mouthwatering…
Michelle has ordered Salt Cod (£6.25) that was dipped in beer batter and fried, served with lemon mayonnaise, and  it was great choice… if I wasn't allured by the smoke from BBQ I would probably go for this dish as well.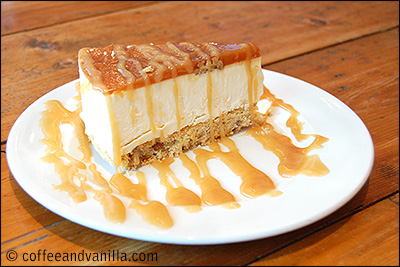 To finish the lunch I asked for Caramel & Pecan Cheesecake (£5.00)… I almost always go for cheesecake whenever it is available so I was curious how the Greek version may taste like. It was completely different from all other cheesecakes I have ever had, the centre was light, very fluffy, tasted like natural yoghurt while the biscuit and toasted pecan base was crumby and nutty, the caramel topping was complementing it perfectly. I would definitely order this dessert again when visiting The Real Greek.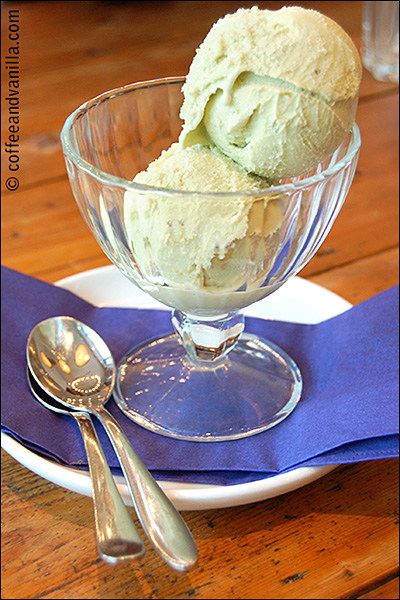 My companions had  for dessert Luxury Pistachio Ice Cream (£6.75), Chocolate Mouse Cake and mysterious traditional Greek balls – they were quite nice and nutty, much nicer than I expected.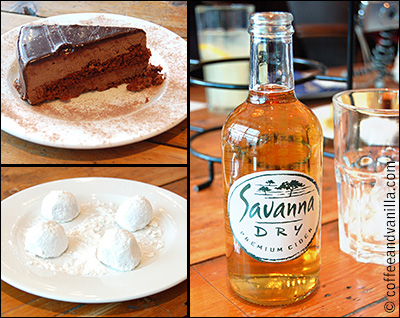 I really enjoyed South African Savanna Dry Cider which Michelle has recommend, it was summery and well matching with the food but meal would not be complete for me without some kind of hot drink so I asked for traditional Greek Coffee – it was small, strong and presented in beautiful brass coffee pot.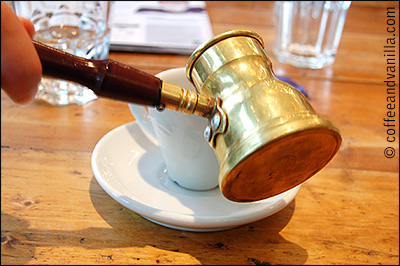 If you like to count calories you will be pleased to know that at The Real Greek have calorie count next to all menu items.
For alternative views on The Real Greek please read reviews of my fellow bloggers:
SUMMARY
FOOD: Authentic, tasty, reasonably priced: 9/10
VENUE: Nice, relaxing atmosphere: 9/10
SERVICE: Friendly, easygoing: 10/10
VERDICT: Fully recommended, one of the best chain restaurants in the area: 9/10
THE REAL GREEK

Unit R1005, 2 Chestnut Plaza
Westfield Stratford City
Montfichet Road
LONDON, E20 1GL
Open: Monday-Saturday: 11.30 am – 11.00 pm, Sundays: 11.30 am – 10.00 pm.
phone: 02085031844
email: stratford@therealgreek.com
Twitter: @realgreektweet
http://www.therealgreek.com
closest station: Stratford

You can find this review between my other reviews on Google Local & Urbanspoon websites.
DISCLOSURE: I enjoyed this complementary meal on 16th of February 2013 as guests of The Real Greek.  All opinions are my own.
Greek recipe ideas:
Michelle pictured step-by-step preparation of slow roast pork belly at The Real Greek restaurant.