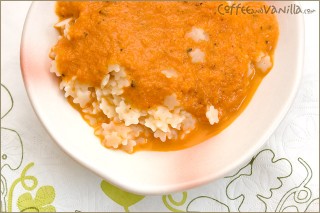 INGREDIENTS
1 onion (finely chopped)
1 tbs Carotino oil
100g mild cheese (cubed)
⅓ cup concentrated tomato puree
3 tbs sun dried tomato puree
2 tbs garlic puree
1 tsp dried marjoram
½ vegetable cube
2 cups hot water
EQUIPMENT
hand blender
METHOD
On the bottom of small sauce pan fry onions on oil until translucent. Add tomato puree, sun dried tomato puree, garlic puree, marjoram, crushed cube, hot water and cook for couple of minutes. Then add cheese and cook only until melted. Then blend sauce using hand blender.
Serve over your favourite pasta.
Makes enough sauce to serve over pasta for 4 people.