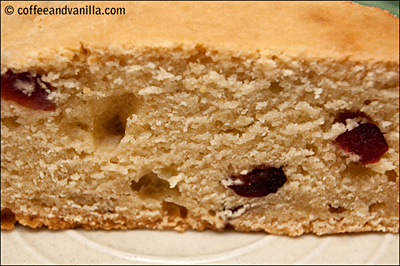 INGREDIENTS
5 medium egg yolks
1 cup golden caster sugar
330 ml milk
100g unsalted butter
500g plain flour
70g fresh yeast or 3 tbs active dry yeast
1 packet of vanilla sugar – optional
150g raisins or other dried fruits (I used cranberries)
½ tsp sea salt
EQUIPMENT
two mixing bowls (small and big)
saucepan to melt butter
two 11×22 cm (4.5 x 8.5 in) non-stick loaf tins (greased with butter or oil)
wooden skewer
whisk
METHOD
Rehydrate the raisins if they are very dry, drain and leave aside.
In a large mixing bowl combine yeast with some of the milk, sugar and flour, leave aside until it will dissolve and start growing.
In meantime melt the butter and leave aside to cool down a little bit.
In a small mixing bowl combine egg yolks with sugar and whisk until well combined.
Add the egg yolk mixture to the bowl with yeast, stir in flour, butter, vanilla sugar, raisins or cranberries, salt and the rest of the milk and stir for a while to make sure it is mixed well.
Transfer the dough to greased tins, cover with kitchen towel and leave in a warm, quiet place to grow for about 30 minutes.
Bake in the over preheated to 150°C (302°F) for about 35-55 minutes until golden brown, moist but not sticky inside, use skewer to check.
Makes 2 small loafs of cake.
NOTES
This is my mom's recipe that accompanied me through my entire childhood. My sister Jola and I we used to jump in the kitchen for the cake not to grow because we liked it better that way.