If you are already Pinterest fan I don't have to tell you have useful it may be. If you don't, well, then you should join Pinterest as soon as possible to see what you are missing out. But be warned, Pinterest is very addictive, you may find yourself spending hours in there dreaming about places and things you want to make or buy (!)
Myself, I use Pinterest for both personal and professional uses.
Personally to collect inspiring craft ideas, images of how I would like our dream home to look like and concepts for future trips… I had Diana Memorial Playground in To Visit / Do with Kids board for a while now and yesterday we have finally visited it. Kew Gardens are next (!)
Often I use Pinterest rather than Google to search for images when doing project with kids as it is much more child friendly (virtually porn free) unlike many other websites.
Sometimes we even create boards for homework purposes, like this Eco Town board for my daughter which helped her to draw map of eco friendly town.
I like also the fact that you can create secret Pinterest boards that are invisible to the public but are possible to share with invited users – quite handy while preparing an event.
Professionally I use Pinterest to get inspired by amazing photos, illustrations, design images from other retouchers and photographers… Michael (my better half) have mentioned it on our other blog at 416 Studios Journal.
While pinning be aware of copyrights, try not to pin images that are not linked to the original article / website where the images came from. It is really not so hard to find source of an image if you want and then edit pin url to the correct one.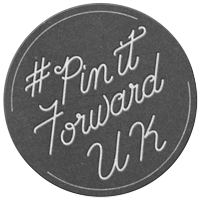 With thanks to my friend Jeanne of Cook Sister for introducing me in her Pin It Forward post.
The next in line is Kate from Turquoise Lemons, she will be writing about her affair with Pinterest tomorrow. You can take a look at all of Kate's boards here, my favourite is Food Wrapping and Healthy boards – lots of great ideas!
DISCLOSURE: I was asked by Pinterest to take part in #PinItForwardUK campaign but I was not financially compensated for this post. All opinions are my own.