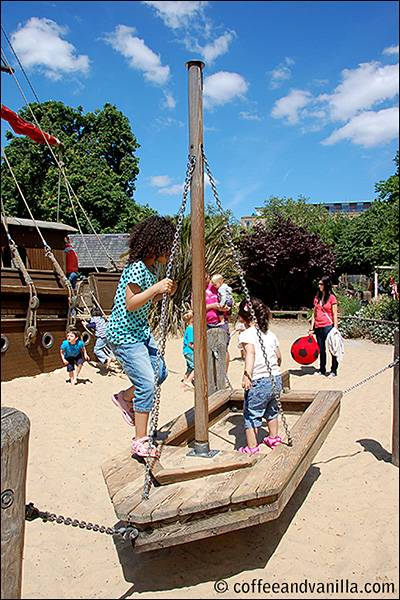 Diana Memorial Playground (Kensington Gardens, Hyde Park) is my girls' new favourite place. I don't know how, living in London for over 8 years and visiting Hyde Park on more than one occasion, we have never visited this place before (!)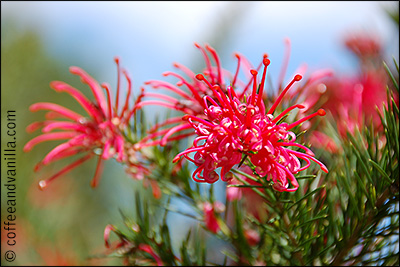 The main attraction is huge wooden pirate ship surrounded by giant sand pit, huge stones and amazing tropical looking plants. There are slides, trials, teepees, pirate treasure chest, pirate telescope, wooden houses and tractor, musical instruments and many other tractions. I tried to capture as many things as I could while chasing my girls but it wasn't easy… It was last day of half term holidays so the park was pretty busy. I regret not having t a chance to take a photo of the entire ship, maybe next time.

Diana Memorial Playground has been opened in year 2000 and it has been free to visitors ever since but only accompanied by children that are no older than 12.
The park is surrounded by the fence and the security must buzz you in and out what makes the playground secure place for the families. I was very impressed with how clean the park is kept, I haven't seen any dumped rubbish or anyone smoking, if only other parks were a little bit like this…
My daughters enjoyed not only the park but also ice cream from playground's café very much, especially the vanilla one, it was very creamy, fragrant and full of vanilla seeds (£2.40 / scoop, £3.60 / double scoop).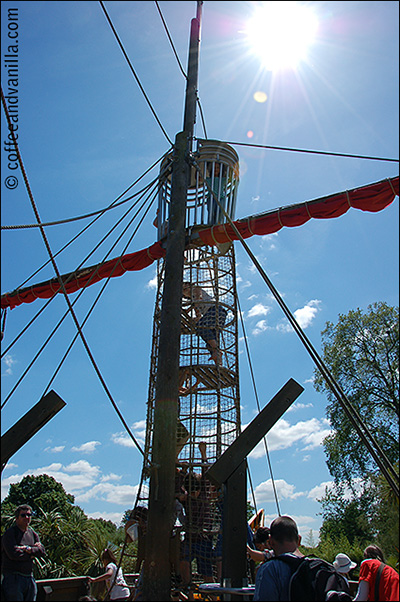 Directions:
Diana Memorial Playground
Black Lion Gate
Broad Walk
London W2 2UH
Closes tube station: Queensway (on Central / red line) or Queensway Station bus stop (buses 148, 390, 94).
You can find this review between my other reviews on Google Local.
For more info visit Google maps and Royal Parks website.
Disclosure: I haven't been asked or financially compensated to write this post. All opinions are my own.