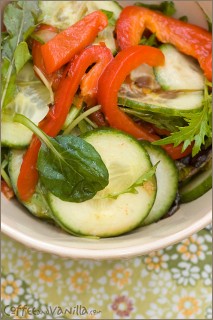 INGREDIENTS
4 sweet red bell peppers
130g mixed leaves (red Romain lettuce, baby spinach, tat sol, mizuna, rocket / arugula / rucola)
1 large English cucumber (sliced)
3 tbs clear honey
1 tbs balsamic vinegar
2 tbs or to taste sweet chilli sauce
3 tbs olive oil
sea salt to taste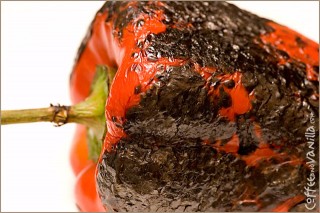 METHOD
Burn pepper skin over gas as much as possible and close them in plastic bag for about 15 minutes.
Then rub the skin off, it should come out easily. Break each pepper in half, remove seeds, rinse, drain and cut into slices.
Mix with leaves and cucumber, season with honey, vinegar, chilli sauce, oil and salt.
Serve immediately.
Make 4 servings.
Place rack over large fire and place peppers on the top, to make roasting easier, turn them around to make sure all sides of peppers are burned.
This salad taste good with a piece or buttered wholemeal bread and roasted chicken.