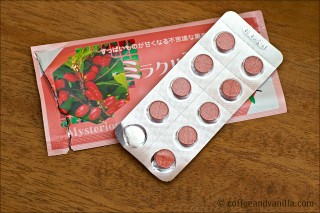 It is said that Miracle Fruits (Miracle Berries) make sour and bitter foods extremely sweet. "The berry contains an active glycoprotein molecule, with some trailing carbohydrate chains, called miraculin. When the fleshy part of the fruit is eaten, this molecule binds to the tongue's taste buds, causing sour foods to taste sweet. While the exact cause for this change is unknown, one hypothesis is that the effect may be caused if miraculin works by distorting the shape of sweetness receptors "so that they become responsive to acids, instead of sugar and other sweet things". This effect lasts 15-60 minutes." (1)
It looks like miracle fruit is a good (but also quite expensive) alternative for people that can't or don't want to consume sugar and still want to enjoy some sweet meals.
Miracle fruit is available as fresh fruits, freeze-dried granules or in tablets.
I've been reading about miracle fruits for a while now and always wanted to try them… Finally I found them in tablet form on internet and I could not resist. I ordered box of 10 tablets (for £9)… and waited impatiently.
Couple of friends came over and we tried it with all advertised foods that should taste incredibly.
Unfortunately tablets did not work as expected… sour things like lemon, grapefruit, strawberries in balsamic vinegar, raspberries, blueberries and cherry tomatoes tasted great, sweeter, delicious! But chocolate was tasteless, beer tasted without any change, same Marmite… sour cabbage still the same, generally they only worked on fruits, and all other things tasted either the same or worse – for instance cheese. One of my friends even complained about horrible taste or her tongue after taking the tablet.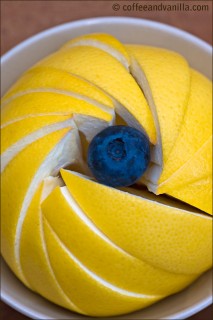 I don't know if this is because I got tablets from wrong place or because they whole miracle fruit tablet thing is a little bit over rated…