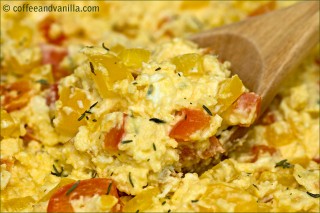 INGREDIENTS
8 eggs
2 large bell peppers – red and yellow or orange (cubed)
1 tsp or more fresh thyme leaves
2-3 tbs Carotino or olive oil
200g feta or salad cheese (cubed or crumbled)
1 tbs garlic granules
freshly cracked black pepper
bread and butter to serve
EQUIPMENT
large non-stick frying pan
METHOD
Fry peppers on oil with thyme and garlic granules until soft to your liking.  Add eggs and feta and continue cooking stirring from time to time until eggs are ready and all feta melted.
Share to the plates, season generously with freshly cracked pepper and serve with some fresh buttered bread on a side.
Serve 4 people for breakfast or lunch.