[Based on Banana Nut Bread recipe.]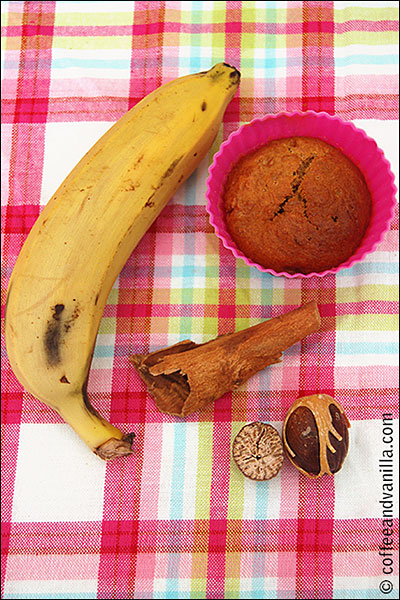 INGREDIENTS
5 ripe bananas – mashed roughly (about 700g)
200 ml vegetable oil (we used hazelnut oil)
3 eggs (lightly beaten)
3 tbs of home-made vanilla sugar (30g)
1 tbs of baking powder
1 cup of soft dark brown sugar
2 pinches of salt
3 cups plain flour
2 tsp freshly ground cinnamon
½ tsp freshly grated nutmeg
EQUIPMENT
mixing bowl & spoon
measuring spoons
egg whisk
spice grater
spice / coffee grinder
2 muffin trays lined with muffin cases or even plain trays topped with silicone muffin cases
skewer
METHOD
Stir everything together and fill muffin cases with the dough.
Bake in 150°C (248°F) for about 45 minutes.
Prick one of the muffins with the skewer to check if they are ready, it should come out clean.
Leave to cool down completely before serving.
Make 24 standard size muffins.
NOTES
Banana bread taste even better the next day so try to save some for next day.
Make sure that you don't put too much bananas, or you don't mash them too much because cake will not grow.
My 7 year old daughter measured and mixed all the ingredients on her own, even scooped out the mixture into the muffin cases. I have only helped her with grinding cinnamon and grating nutmeg as we had them whole (from my husband's home island of Dominica).