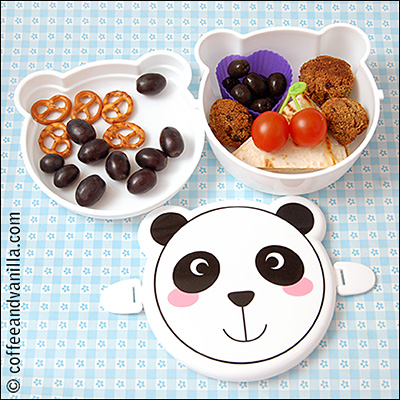 Lunchbox # 125 (for 7 year old girl)
bottom tier
quick quesadillas with Cheddar cheese only
cherry tomatoes on leafy food pick
black olives in heart shaped silicone muffin case
top tier
mini pretzels
seedless black grapes
plus
raspberry fromage frais (not pictured)
bottle of water (not pictured)
Lunchbox # 126 (for 2 year old girl)
The same like lunchbox # 125, just a bit less and no food picks (too dangerous for little children).
Everything placed in two tire bento boxes inside insulated lunch bags.
More lunchbox ideas can be found here: Lunchbox Food.
And here you can read about Packing Children Lunches.
Some of the lunchbox accessories can be found in my Amazon aStore.
NOTES
This is my entry for my own event: "Wholesome Lunchbox". If you want to participate, please submit your entry through Flickr group before 15th of each month.