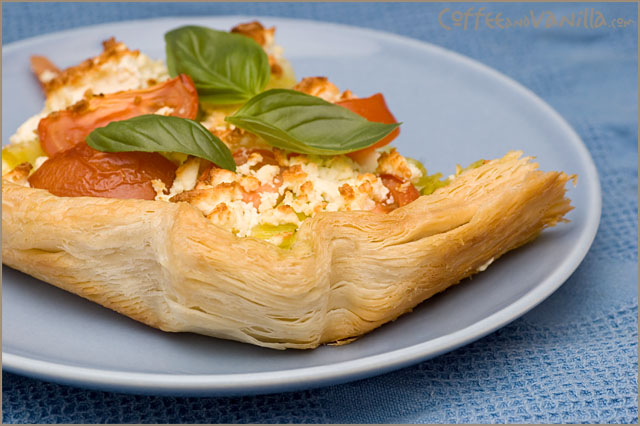 INGREDIENTS
500g ready puff pastry (removed from the fridge 20 minutes before)
500g leeks (sliced)
500g cooked and chopped chicken breast – optional
1 tbsp oil (I used Carotino)
150g tbs pesto
4 small tomatoes (cut into wedges)
200g feta cheese (crumbled)
freshly ground rainbow peppercorns
few fresh basil leaves to garnish
METHOD
Preheat the oven to 200°C (392°F).
Roll out the pastry enough to cover also sides of the dish and place in large roasting tin on Teflon sheet. You can also use 4 smaller baking trays. Prick all over the bottom of pastry with a fork.
Spread pesto on the pastry.
In meantime fry on oil sliced leeks for about 5-8 minutes.
Arrange leeks on the pastry, then chicken, tomatoes and at the end feta cheese.
Bake for about 30-25 minutes till feta starts getting brown.
Remove from the oven, cut into pieces with wooden or plastic tool, not to cut Teflon sheet.
Serve to the plates, season with pepper and garnish with basil leaves.
Serve 4 people.