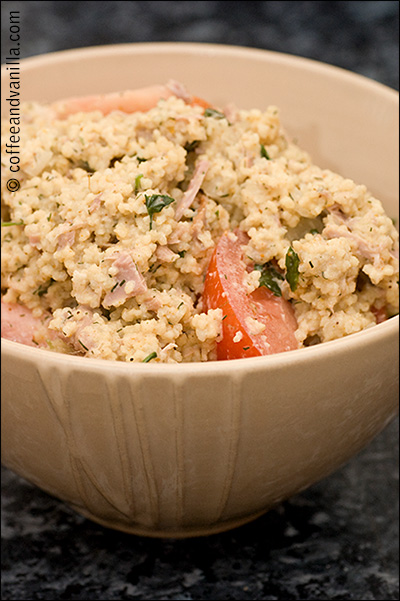 INGREDIENTS
500g couscous
1000 ml boiling water
1 small onion (finely chopped) or small leek (sliced)
1-1½ tbs vegetable stock powder
1½ tbs mild curry powder
2 tbs dried dill or some fresh one
4 tbs fresh or frozen parsley (chopped)
4 medium tomatoes (cut into wedges), some cherry tomatoes (halved) or even better some bell pepper (diced)
3 x 185g tins of tuna in brine (drained)
150g of mayonnaise
METHOD
Place couscous, dill, curry powder, vegetable stock granules and onion in large mixing bowl, add boiling water, cover and let couscous soak all the water.
Mix in rest of the ingredients.
Add mayonnaise at the end when couscous is not so hot any more.
Serve warm or cold.
Serves 4 people as main dish.