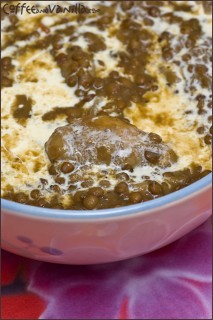 INGREDIENTS
2½ cup le puy lentils (500g)
12 chicken wings
3 onions (cut into wedges)
3-4 carrots (sliced)
1 parsnip (cut into sticks)
2 tbs Carotino or olive oil
3 litres of hot water (12 cups)
4 vegetable cubes (10g each)
2 tbs garlic powder
2-3 tbs ginger powder
juice of 1 lemon
3 cups self rising flour
cold water for dumplings
METHOD
Fry onions, carrots and parsnips on oil until golden brown. Add the rest of ingredients and cook covered until chicken and lentils are ready.
In meantime prepare dumplings from flour and water, adding water slowly to create soft but not sticking to hands dough. When chicken and lentils are ready it is time to add dumplings. Take small pieces of the dough in your hands, create oval shapes, about 1½ cm thick, and drop them in the pot. You have to do it quite quickly so all of them will cook evenly. Cook covered some more till dumplings are ready.
Share to the plates.
Serve 6 people.
Chicken wings can be easily skipped, vegetable cubes can be replaced with chicken cubes, but not necessarily.