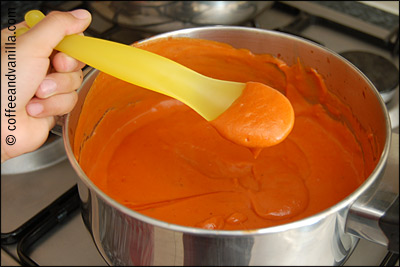 INGREDIENTS
150 g tomato purée
2 vegetable cubes
400 g boiling  water
1-1½ tsp golden caster sugar
1 tsp dried oregano – optional
3 tbs thick cream
3 tbs plain flour
3 tbs butter
400g tin of chopped tomatoes – optional
EQUIPMENT
plastic jug with measurements
medium saucepan
wooden spoon for stirring
measuring spoons
METHOD
Dissolve cubes in a jug filled with 400 ml hot water, add also tomato purée to the stock and if using oregano. Take only 200 ml if you are planning to add chopped tomatoes to the sauce later on.
In a saucepan melt butter, stir in flour and gradually combine it with stock, mixing constantly. I usually pour the stock slowly into the pot while my daughter is stirring, she is 7 years old.
If you are making sauce with chopped tomatoes, add them now and cook for a while longer.
Remove from fire, season with sugar and cream.
Serve over the pasta or use to make homemade pizzas.
Make enough sauce for the family of 5-6 (500g of pasta or many pizzas).
NOTES
We cook this sauce (without chopped tomatoes) often when making Marissa's Mini Naan Pizzas or with addition of chopped tomatoes for pasta, topped with some grated cheese.
We often use funky pasta shapes to make meals more interesting.