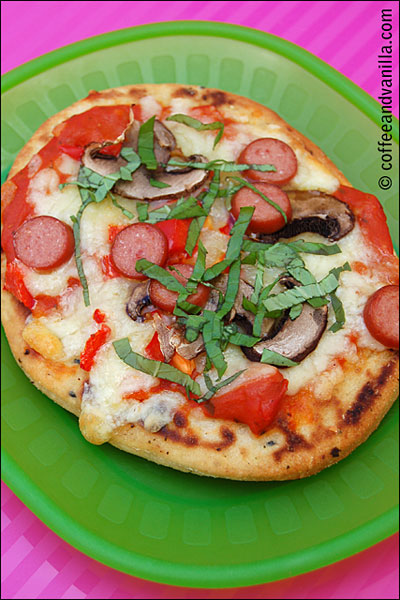 Yesterday my 7 years old daughter came back from her swimming course very hungry and decided to make pizzas for all of us, all by herself, except for putting in / taking out from the oven part.
INGREDIENTS
8 mini naan breads, we used naan with garlic & coriander
cup of grated cheese, we used mature Cheddar
cup of thick tomato sauce, we used leftover home-made sauce
toppings of your choice, we used: diced red pepper, couple of sliced chestnut mushrooms, sliced black olives, sliced frankfurters
garnish: chopped basil leaves
EQUIPMENT
METHOD
Preheat oven to 175°C  (350°F).
Place naan breads on the baking trays. If they are too bumpy turn them upside down, it will be easier to spread the sauce.
Top naans with tomato sauce, spread evenly.
Sprinkle generously with grated cheese.
Add your favourite toppings.
Place in the oven and bake for couple of minutes until the cheese is all melted and starting to turn golden brown.
Remove from the oven, garnish with freshly chopped basil leaves and serve.
Make 8 mini pizzas (allow 1 per smaller & 2 per bigger child).