Thank you for all your lovely entries to our May Inheritance Recipes link-up here.
Every month you can submit to our link up any recipe as long as it is inherited through family member, friend or ancestral culture. There is also no geographical restrictions for the entries. Recipes from all over the Globe are more than welcome. We co-host IR link-up together with Pebble Soup so you can submit your links either here or on Solange's website every other month. We share all of the entries via social media and included them in full round-up (with images) on our blog at the end of the moth.
All entries that have qualified can be seen below, in order of submissions. Follow the number links under the collage to check them out and don't forget to subscribe to our Inheritance Recipes Pinterest board (that has now almost 2K followers) and Inheritance Recipes list on Twitter.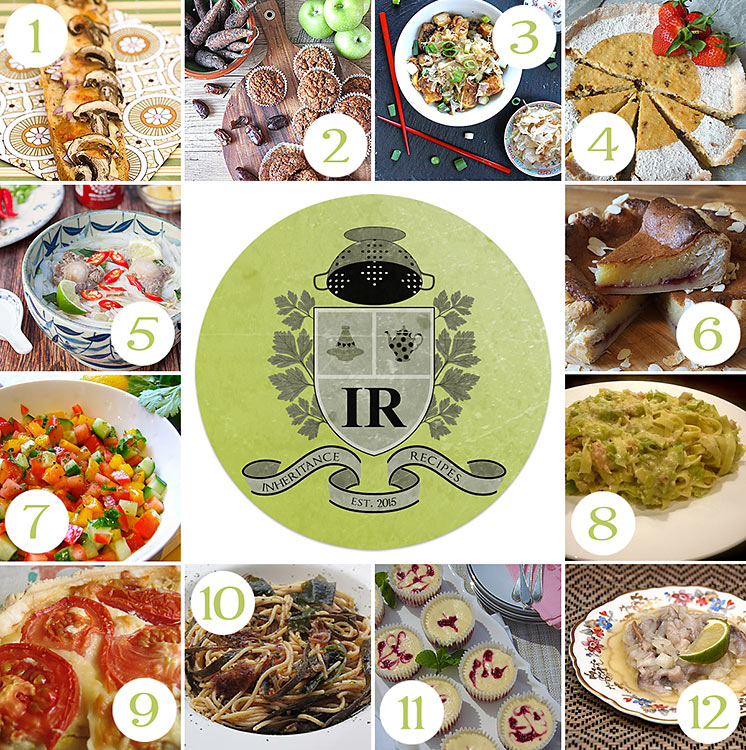 Zapiekanka – Polish Street Food by Margot from Coffee & Vanilla
Morning Glory Muffins by Elizabeth from Elizabeth's Kitchen Diary
Japanese Fried Tofu with Egg, Spring Onion and Bonito Flakes by Kate from Gluten Free Alchemist
Yorkshire Curd Tart by Angela from Only Crumbs Remain
Vietnamese Beef Pho Tai by Naomi from Asian Food Adventure
Bakewell Pudding by Rosemary from Rosemary and Pork Belly
Israeli Chopped Vegetable Salad by Helen from Family Friends Food
Smoked Salmon and Lemony Leek Pasta by Helen from Roast Chicken and A Country Walk
Tarte à la Moutarde by Solange from Pebble Soup
Taste of the Sea Seaweed Spaghetti by Shaheen from Allotment 2 Kitchen
Mini Berry Cheesecakes by Helen from Family Friends Food
Śledzik – Traditional Polish Salted Herring by Margot from Coffee & Vanilla
June Inheritance Recipes challenge is being hosted by Solange – do visit her blog to submit the links. We can't wait to see your #InheritanceRecipes and most of all to read stories behind them .