H2Ope for Haiti is an online raffle that Jeanne of Cook Sister! launched together with BloggerAid – Changing the Face of Famine (BA-CFF) to raise funds for Concern Worldwide's relief effort in Haiti.
Jeanne collected lots of great prizes for this raffle and the tickets cost is only £6.50 (roughly $10) each. Go to her website for the full list of prizes and once you have chosen the prize you want to buy ticket for, take a note of the prize code and click through to Justgiving donations page where you will find complete instructions on how to buy your tickets and specify your chosen prizes.
Coffee & Vanilla donated photo restoration service by 416 Studios so if you would want to buy ticket for this prize the code is: HFH24. I promise that I will do my best bringing your photo to its former glory so spending only £6.50 you are not only helping people in Haiti but also risking that your old, damaged photograph of your ancestors will look almost new again (usual price of photo restoration is  £50-£100). You can see below sample image (of my mom) before restoration and after.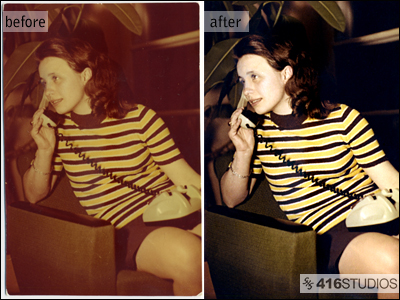 Please, come and join us in H2Ope for Haiti raffle and make your donation before 7th of March!