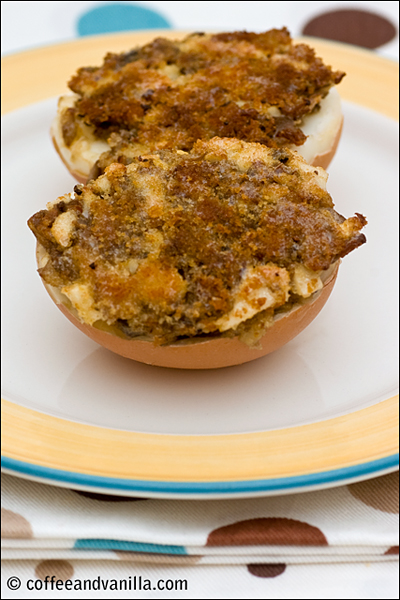 INGREDIENTS
5 hard boiled eggs, in shells
3-4 medium button mushrooms (diced finely)
1 small onion (diced finely)
unsalted butter to fry mushrooms and then to re-fry eggs
½ cup bread crumbs
sea salt to taste
black peppercorns
1 tbs fresh parsley (chopped) – optional
METHOD
With a very sharp knife cut hard boiled eggs in halves, lenghtwise. Remove any loose pieces of shells and scoop out eggs to the mixing bowl and mash or chop them.  Leave shells aside.
Fry diced mushrooms and onions on butter until golden brown. Add to the mixing bowl with eggs, season to taste with salt, freshly cracked pepper and optionally parsley. If mixture is not sticking together add a little bit of milk or cream.
Re-fill eggs shells with mushroom-egg mixture, dip into breadcrumbs and fry upside down on some more butter until crunchy.
Serve immediately or cooled down with some fresh bread on a side and enjoy!