[inspired by James Martin's recipe featured on Good Food Channel]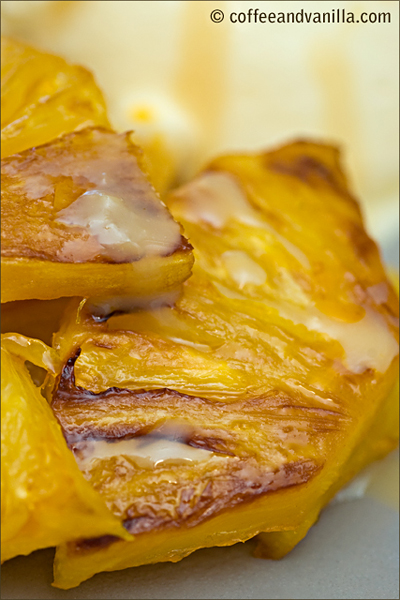 INGREDIENTS
2 ripe but not too soft pineapples (I did cut in four lenghtwise, cored, peeled and sliced but nice round slices of pineapple would look much better)
1-2 tbs Carotino or other neutral oil
about 400g tin of  sweetened condensed milk (I used 387g tin of Carnation milk)
2 tbs soft dark brown sugar
25g unsalted butter
spice rum or Malibu – optional
vanilla ice cream to serve – optional
EQUIPMENT
wok or large frying pan
small saucepan
METHOD
Fry pineapple pieces on oil stirring occasionally until browned.
In a small sauce pan combine sugar and butter and heat over low fire until melted.
Add also condensed milk and continue heating only until sauce is bubbling, stir well and remove from fire.
If you are using liquor add it to pineapple after removing wok from fire.
Share pineapple to the bowls and pour over caramel sauce, serve immediately, optionally with scoop or two of vanilla ice cream on the side.
Serve 4-8 (depending if served with ice cream on the side or not)
If you have any leftover sauce in the pot that got hard after cooling down, just heat it again and add few spoons of boiling water if necessary and it will turn into sauce again.
This dessert is very easy, quick and versatile, you can easily share it for children and then add liquor to the rest of pineapple. You can also use this sauce on grilled or roasted pineapple.
Any left over sauce you can place in the jar in the fridge, when you want to use it again just place closed jar under running hot water and caramel will turn into sauce again.
Please consume spirits responsibly and don't exceed recommended safe alcohol unit limits.