INGREDIENTS
2 kg frozen mixed vegetables (peas, green beans, baby carrots, sweet corn, broccoli, red peppers etc.)
400 g tin tomatoes (I used plum tomatoes)
1 large parsnip chopped
slice of celeriac (chopped)
2 ½ litres of water (9 cups)
2 large onions (cut in 6)
8 chicken or vegetable cubes (10 g each)
1 tsp garlic granules
2 tbs dried dill
1 tbs dried parsley
1 tbs dried marjoram
3 large potatoes (cut in cubes)
150 – 300 ml single cream
8 slices of white toast bread (cut in cubes)
20 g unsalted butter
salt
ground white pepper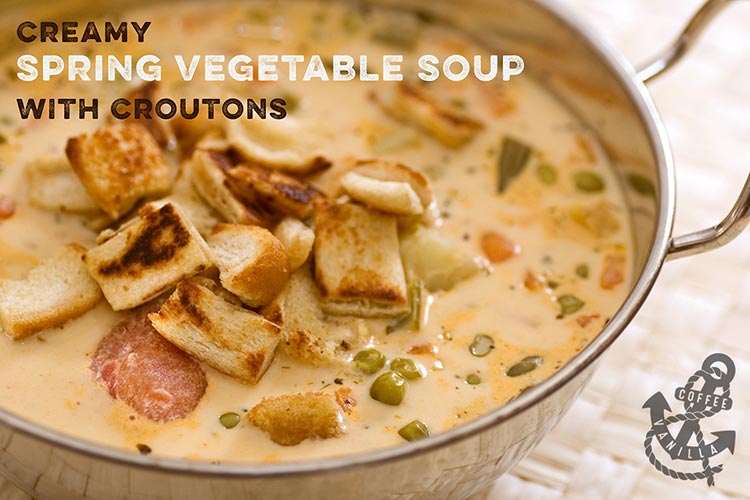 METHOD
Place water, vegetables, cubes and herbs in large pot and cook covered for about an hour.
In meantime fry bread on butter stirring often till golden brown, remove from fire and leave aside.
When soup is ready turn the fire off and slowly stir in the cream.
Season with salt and peppers, serve to the plates.
Top with fried bread.
Serves 8 people.
NOTES
This soup taste even better next day, sprinkled with some grated cheese.
If you family does not like taste of parsley or celeriac, you can skip them, the soup will still be delicious.
For low calorie version replace the cream with milk and skip the croutons.