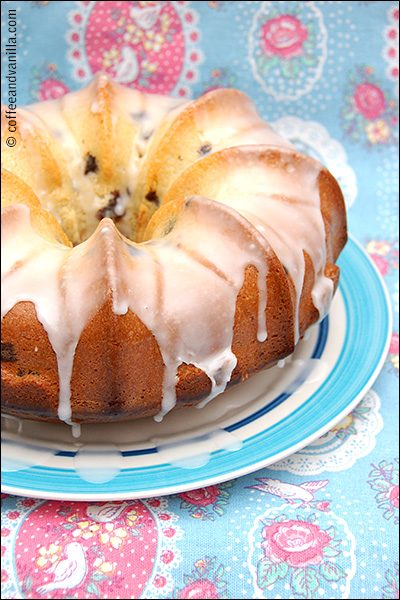 INGREDIENTS
for the cake
2½ cups of plain flour
1½ cups caster sugar
250 g unsalted butter or vegetable shortening (softened)
6 eggs (7-8 if small)
seeds from 1 vanilla pod or replace some of the sugar with vanilla sugar
1 tbs baking powder
150 g plain chocolate chips
for the icing glaze
1 cups icing sugar
2 tbs boiled water
EQUIPMENT
mixer – optional
bundt baking pan (I used silicone one placed on baking tray)
whisk to beat the egg whites (I used manual one)
two mixing bowls, one for egg whites and one for the rest of the ingredients (mixer bowl)
wooden skewer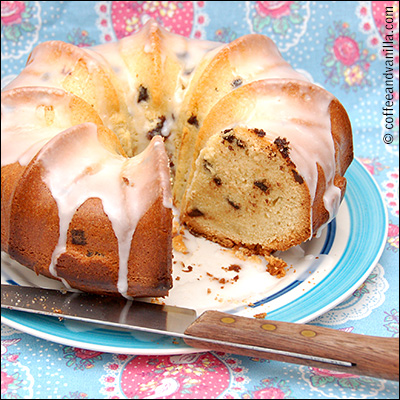 METHOD
Preheat the oven to 180°C (356°F).
Separate egg yolks from the whites.
In a mixing bowl combine sugar, egg yolks and butter and mix until well combined.
In meantime whisk the egg whites until stiff.
Gradually add also flour, vanilla, egg whites, chocolate chips and baking powder.
Transfer the mixture into baking pan.
Bake for about 50 minutes, check with the skewer if the cake is baked through and dry inside.
Remove from the oven and leave aside to cool down.
In meantime prepare the glaze mixing sugar and water.
Pour over the cake.
Let the glaze to set before sharing the cake.
Make 16 pieces of cake.
NOTES
I'm sending this recipe over to Solange of Pebble Soup who is hosting this month's "Wow, Vanilla" May's Spice Trail.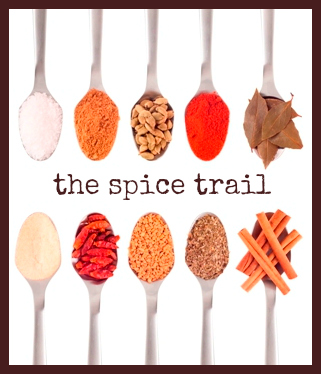 The Spice Trail challenge has been started by Bangers & Mash.