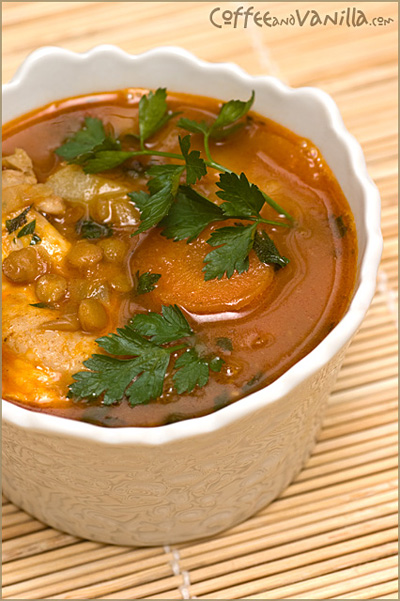 INGREDIENTS
1-1.2 kg chicken wings – 15-20 wings (cut in 3 pieces)
2 tbs Carotino or olive oil
2 onions (cut in halves an sliced)
1 whole garlic (peeled & crushed with side of the knife blade)
2 carrots (sliced)
1 small parsnip (cut into strings)
600g potatoes (cubed)
10 cups hot water (2½ litre)
5 chicken cubes (10g each)
1¼ cup (250g) easy cook green lentils
1 tbs garam masala powder
140g tin of tomato puree
5 cm (2 inches) ginger root (grated)
10 cardamom pods (placed in spice bag and then crushed)
handful fresh chopped parsley
EQUIPMENT
mortar and pestle
spice bag
METHOD
Place chicken, onions, garlic and oil in a large pot and fry till onions start getting brown.
Add carrots, parsnips, potatoes and fry a while longer. Reduce fire, add water, cubes, lentils, garam masala powder, cardamoms in spice bag, tomato puree, ginger and cook covered until chicken, potatoes and lentils are ready. Stir in fresh parsley and share to the plates.
Serves 4-5 people.
Remove spice bag with cardamoms before sharing the food.
Add few drops of hot Caribbean sauce for stronger taste.
If you don't have spice bags either place whole cardamom pots in the soup and then try to find and discard them before sharing the food or use less cardamom pods, peel them and powder in mortar and pestle.