Chicken de volaille, kurczak de volaille or zrazy z kurczaka in Polish is a recipe often served at wedding and other parties in Poland.
It may look impressive but is relatively easy to prepare.
INGREDIENTS
for the Chicken de Volaille
4 large skinless and boneless chicken breast pieces
½ small red onion (cut into 4 wedges)
4 straps of cheese of your choice (I used about 50 g of Red Leicester)
bunch of fresh basil leaves or some fresh thyme (stems removed)
sea salt
black peppercorns
½ cup fine breadcrumbs
1 egg (beaten)
2 tbs unsalted butter
for the Chestnut Mushroom Sauce
EQUIPMENT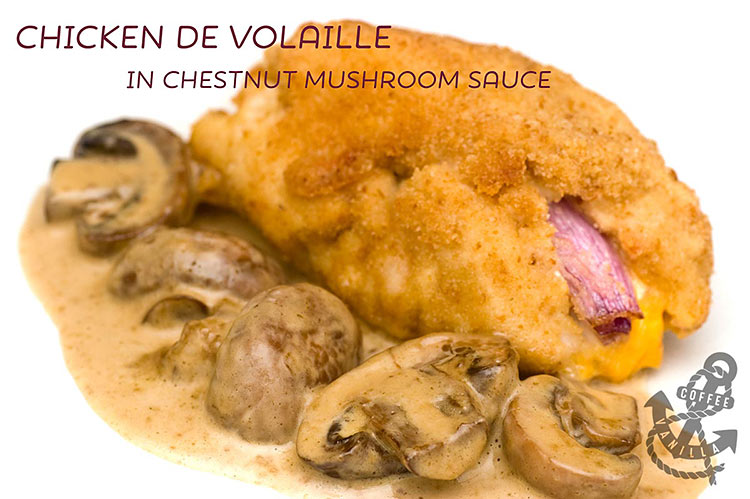 METHOD
Beat chicken breasts with hammer until they are flat enough to roll easily.
On the top of each breast place strap of cheese, onion wedge and some basil or thyme, season with sea salt and freshly cracked pepper.
Roll, deep in beaten egg, breadcrumbs and fry on butter on each side only until golden and well sealed.
Transfer to baking tray and bake in 170°C (338°F) for about 30 minutes.
In meantime on the same frying pan fry mushroom on butter until browned, stir in cream and heat until sauce is thickened and bubbling.
Season to taste with salt.
Once chicken is baked share it to the plates with mushroom sauce and some baked or cooked potatoes and salad.
Makes 4 servings.
NOTES
I served it with Sweet Carrot Salad and boiled baby potatoes.
DISCLOSURE: This post contains some affiliated links.