[recipe inspired by Kevin from Closet Cooking]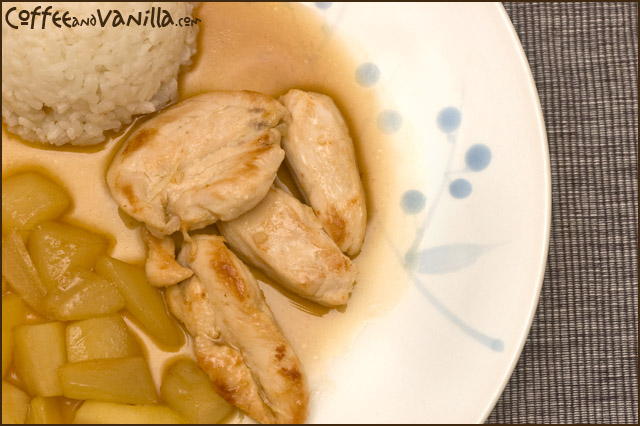 INGREDIENTS
4 pieces of chicken breast (cut into smaller pieces)
1 tbs grape seed oil
1 tbs unsalted butter
½ cup maple syrup
3 tbs water
1 Maggi cubes (vegetable or chicken flavour)
2 pinches salt
4 small pears (about 550g) (peeled, cored and cubed)
EQUIPMENT
large frying pan or wok
METHOD
Heat oil and butter in a frying pan, add chicken, season with salt and fry on medium fire till golden. Remove from the frying pan and leave aside. Add water and Maggie cube to the frying pan and fry stirring constantly over low fire till Maggie cube melts completely. Make fire a little bigger, add pear and maple syrup and cook till pears are soft.
Serve to the plates over chicken breast with some rice on a side, I served it with "Coconut Rice".
Serve 4 people.
* You can replace chicken with turkey and pears with apples.