[inspired by Richard Leader of  Superfood]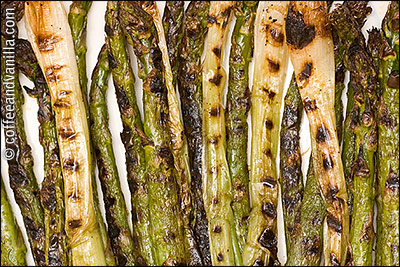 INGREDIENTS
bunch of green onions / spring onions
bunch of asparagus (about 350g)
Parmesan cheese (grated or shaved)
balsamic glaze (thicker than balsamic vinegar)
sea salt
EQUIPMENT
cast iron ribbed frying pan or char-grilling pan
METHOD
Toss asparagus and spring onions with oil, place on hot frying pan over high fire and char-grill turning occasionally until grilling marks appear and asparagus (on the bottom) is soft when pricked with a fork.
Char-grilling will produce smoke, but this is very welcomed effect, so just make sure your windows are open and cooker hood on, if you don't want to activate fire alarm :)
Transfer ready asparagus and spring onions to the plate, sprinkle with Parmesan,  salt and balsamic glaze.
You may also use only salt, it will be still delicious…
Serves 4 people as a side dish.
NOTES
It was the best asparagus I have ever had (!) Thank you Richard :)
Kids loved it as well, even the 3 year old but not the onions and balsamic glaze.
Looking for more asparagus recipes?
Michelle of Greedy Gourmet made this beautiful and creamy asparagus soup.