[adapted from The Golden Book of Chocolate by Carla Bardi & Claire Pietersen]
INGREDIENTS
for the cake layers
2 cups plain four
2 tsp baking powder
¼ tsp fine salt
½ cup water
half a bar / 125 g unsalted butter (softened) + some more for greasing the tins
1¼ soft dark brown sugar
2 large / 3 small eggs
½ soured cream
150 g semi-sweet / bitter-sweet / dark chocolate (broken into pieces)
for the filling
600 ml whipping cream
350 g jar of cherry preserve with pieces of cherries
3 tbs Schwarzwälder Kirschwasser / Kirsch or some other alcohol such as vodka or rum, can be also replaced by cherry syrup or skipped at all if the jam is quite watery
for decoration
250 g semi-sweet / bitter-sweet / dark chocolate (broken into pieces)
50 g unsalted butter
350 g fresh cherries / maraschino cherries can be also used or chocolate shavings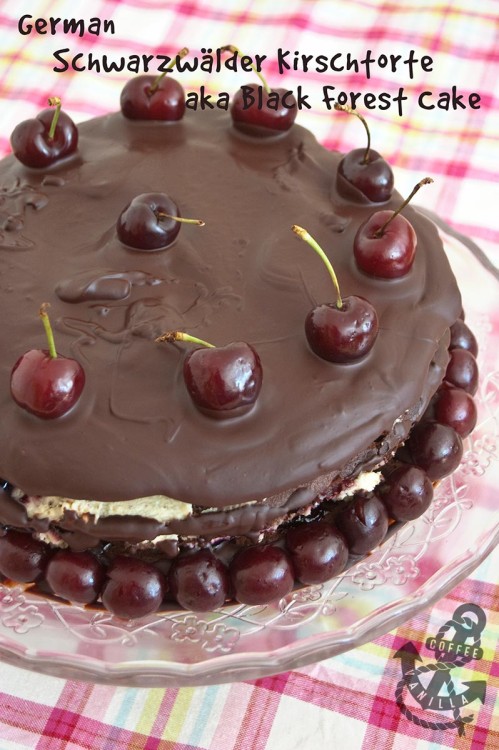 EQUIPMENT
two 9" (22,8 cm) round non stick cake tin with removable bottoms
circles cut out from baking / parchment paper
hand blender with chopping & whisking ends
food processor to make the whipped cream
cake stand or disposable cake bas
some tool to pit the cherries, I used bent large paper clip, image above.
two mixing bowls: small and big one
double boiler or small pot and a metal bowl that can be placed on the top of the pot to melt the chocolate
sharp knife with a long blade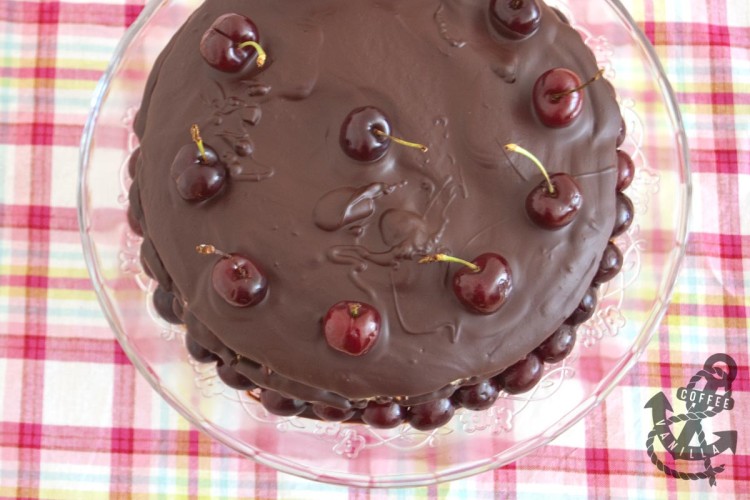 METHOD
For the chocolate layers butter all 2 tins with unsalted butter, place on the bottom of the tins baking paper circles and also butter them. Preheat oven to 170°C (338°F).
In a small mixing bowl combine flour, salt and baking powder.
In a pot bring some water to boil, on the top place a bowl to which add chocolate pieces with half a cup of water. Continue heating over low fire and string until all chocolate is melted, do not bring to boil. Leave aside.
In a large mixing bowl using hand blender with a chopping end bled butter and sugar until smooth.
Change to whisk end and gradually add also eggs, melted chocolate, sour cream and flour mixture.
Share the dough evenly to the baking tins and bake for about 35-40 minutes.
Remove from the tins, peel of the baking paper and leave aside to cool down.
In meantime whip the cream and combine jam with the liquor.
Once the chocolate layers are cooled down split each of them horizontally into two, so you will have four layers.
Place first layer on the cake stand, top with ⅓ of the whipped cream and preserve, repeat the same with another two layers and top with the last one.
Using the same double boiler or pot and a bowl to melt chocolate adding butter this time, not water.
Pour the chocolate glaze over the cake, decorate with some whole cherries on the top and pitted and halved cherries around the cake.
For the best taste place the cake in the fridge for couple of hours or even overnight.
Remove from the fridge half an hour before serving.
Makes 8 – 10 servings.
NOTES
Black forest cake recipe is not one of the easiest but all the afford is well worth the result, the cake is delicious, melting in the mouth… and combination of cherries and chocolate is just perfect.
I made this cake for my step son's 17th birthday, Happy Birthday D'wayne!
With thanks to my friend Beata who gave me The Golden Book of Chocolate years ago for my birthday :)
DISCLOSURE: This post contain some affiliated links.
Please consume spirits responsibly and don't exceed recommended safe alcohol unit limits.