This is truly delicious baked salmon topped with crunchy Parmesan and breadcrumb topping.
INGREDIENTS
3 – 4 salmon fillets (about 600 g)
about 10 g of fresh lemon thyme (stems removed) or un-waxed lemon zest to taste
½ mini parsley cube (4 g) or 1 tsp dried parsley or some fresh / frozen parsley plus salt to taste
15 – 20 g grated Parmesan cheese
½ cup fine breadcrumbs from the bakery
25 g unsalted butter (melted)
olive oil spray or olive oil and silicon brush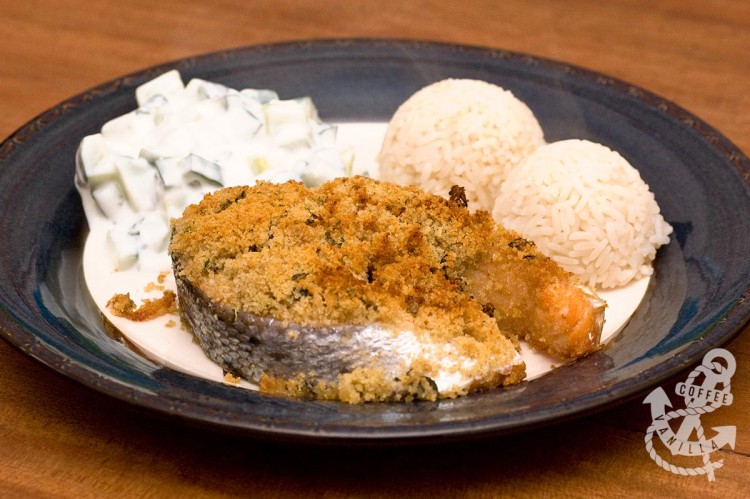 EQUIPMENT
lemon zester
non-stick baking dish or any baking dish plus non-stick Teflon sheet
METHOD
Brush / spray salmon with olive oil and place in the baking dish.
Combine thyme, parsley cube, Parmesan, breadcrumbs and melted butter in a small container and mix well.
Cover salmon fillets with this mixture, then place salmon in the oven.
Bake in 180°C (356°F) for about 15 – 20 minutes.
Makes 3 – 4 servings.
NOTES
I used salmon steaks instead fillets but I don't recommend them for this recipe. Salmon fillets are easier to top with breadcrumbs and you don't have search for bones.
Baked salmon taste good with rice and Cucumber & Mint Raita or some other juicy salad.