Lunchbox # 1 (for 12 year old boy)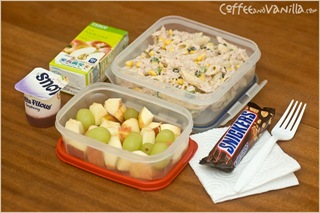 I wish I could be more creative, pack lunch in some cute boxes and lunchbox bag, arrange fancy cutouts all over it but this is lunch for 12 year old boy, who forbid me decorating his lunch :) … well, I guess I have to wait till my daughter, that is 2 now, will start going to preschool.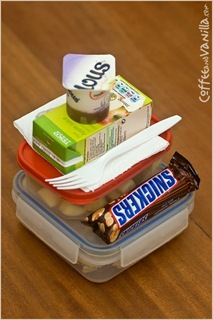 "Tuna, Dill and Sweet Corn Pasta Salad" (follow the link for recipe)
fruit salad ( chopped apple and handful of seedless white grapes)
pure fruit juice (apple), on sport days extra bottle of water or fruit tea cooled down and poured into a bottle
small Snickers bar
small fromage frais
disposable fork / spoon
napkin
More lunchboxes coming soon…. some already existing recipes for Lunchbox Food you can find here.