This is my entry for Kalyn's "Weekend Herb Blogging", hosted this week by Pille from Nami Nami.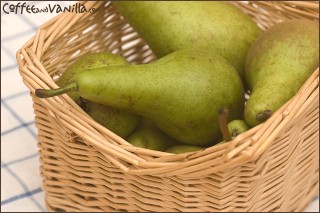 Fruit & Cheese Pastry with Sweet Chilli Sauce
[recipe adapted from: UKTV Food]
for the pastry
500g ready puff pastry (removed from the fridge 20 minutes before, if frozen 2-3 hours before)
4 small sweet but not too soft pears (peeled, cored, sliced)
3 medium apples (peeled, cored, sliced)
3 tbs lemon juice
1 egg plus dash of milk (beaten slightly) for brushing the pastry
200g yellow pizza mozzarella (sliced finely) or about 2 balls of fresh mozzarella in brine (drained and sliced finely)
200g feta (cubed)
silicon pastry brush
non-stick baking sheet or baking paper
rolling pin
for sweet chilli sauce
3-5 dried bird's eye chilli peppers
4 tbs olive oil
4 tbs white sugar
2 tbs lemon juice
few pinches of paprika for colour
pinch of salt
half a pinch of ground black pepper
mortar and pestle
(Instead of making sweet chilli sauce you can also use ready one.)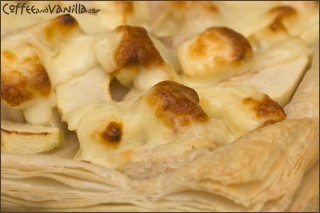 Place sliced pears and apples in bowl and pour over lemon juice, mix well.
Roll out pastry on oiled baking sheet to about ⅓–½ cm tall. Prick the whole bottom of the pastry with fork, except edges, leave out about 2 cm on the edge.
Brush pastry with egg, place apples and pears on the top, leave edges uncovered.
Sprinkle over cubed feta cheese and bake in preheated oven to 180°C (356°F) on bottom shelf till feta starts getting brown (about 15-20 minutes). Remove from the oven, cover with mozzarella slices and put back in the oven for couple more minutes till mozzarella is all melted and getting golden brown.
In meantime prepare sweet chilli sauce.
In mortar and pestle smash chillies, add olive oil, sugar, lemon juice, salt, pepper and paprika. Stir till all sugar is melted.
Serve pastry to the plates, season with sweet chilli sauce.
Serve 3-4 people.
* Originally pastry was made with goat cheese instead of feta and mozzarella.
** And here is some info on bird's eye chillies.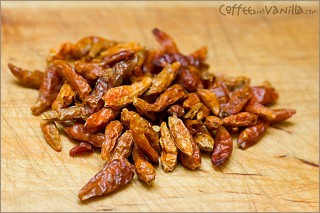 Bird's Eye Chilli Peppers are also known as Thai Pepper, they grow mostly in Thailand, Malaysia and India. There is also African version of Bird's Eye Chillies, they are called African Birdseye or African Devil. In some parts of Africa that used to be Portuguese Colony they are called Piri-Piri, Peri-Peri or Peli-Peli.
They can vary in colours from green to red but all of those little chillies are very, very hot.