[recipe originally from: Traveler's Lunch Box]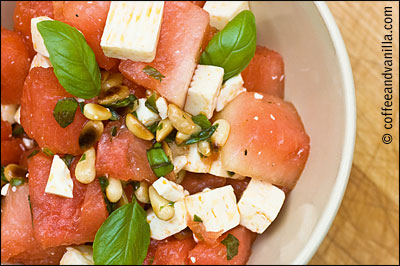 INGREDIENTS
¼-½ medium size watermelon
200g feta or salad cheese
50g (about 100ml) pine nuts or blanched hazelnuts (chopped)
3 tbs olive oil
handful of fresh basil leaves (chopped)
few more basil leaves for garnish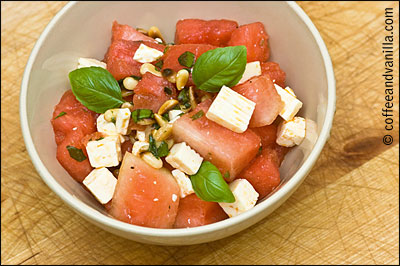 METHOD
Remove skin from watermelon, cut in into cubes and deseeded.
Chop feta cheese into cubes.
Toast pine nuts on frying pan till some parts of them are golden brown. If using blanched hazelnuts, just chop them.
Combine watermelon, feta cheese, pine nuts, olive oil in a mixing bowl.
Season with freshly ground pepper, serve to the serving bowls and garnish with basil leaves.
Serve 3-5 people as a side dish.
NOTES
This is my entry for Kalyn's "Weekend Herb Blogging" #99, hosted this week by Katie from Thyme for Cooking, the Blog.