[Salsa Fresco recipe adapted from Clay's Kitchen]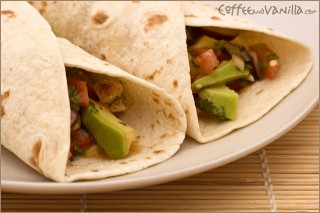 INGREDIENTS
8 large soft flour tortillas
1 large / 400g ripe avocado (peeled, pitted and cubed)
½ cup diced finely red onion
hot sauce (I used Tabasco) to taste
sea salt to taste
for Smoked Chicken
500g chicken breast
smoked paprika powder
sea salt
unsalted butter
for Salsa Fresco
500g tomatoes (diced)
1 small onion (diced) – in this case optional
1 red bell pepper and 1 yellow bell pepper (deseeded and diced)
2 small handfuls of chopped coriander
1 lime / ½ lemon juice
sea salt to taste – in this case optional
EQUIPMENT
cast iron ribbed frying pan
METHOD
Combine all ingredients for Salsa Fresco and leave aside.
Season chicken breast with salt and smoked paprika and fry on butter on ribbed frying pan. Cut into pieces and leave aside.
In a large bowl combine Salsa Fresco, Smoked Chicken, avocado and red onions. Season to taste with salt and hot sauce. Place ⅛ of the mixture on tortilla wrap and roll, repeat the same with the rest of the mixture and wraps.
Serve 4 people.