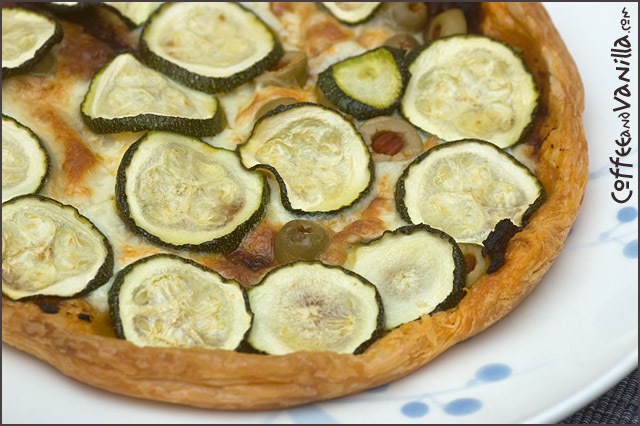 INGREDIENTS
500g ready puff pastry (removed from the fridge 20 minutes before)
100g sundried tomato pesto (about ½ jar)
500g courgettes / zucchinis – 2 medium ones (sliced)
40 pitted green olives, about ⅔ from 340g jar, I used pimento stuffed olives (cut in halves)
250g bar of mozzarella for pizza (sliced)
rainbow peppercorns
1 tbs olive oil
EQUIPMENT
rolling pin
silicon brush
four 20cm (8 inches) wide sandwich/tart baking dishes
METHOD
Preheat oven to 200°C (392°F).
Divide pastry into 4 pieces, roll in out and place in baking dishes.
Spread pesto over the pastry, then mozzarella slices on the top of pesto.
Sprinkle with olives and arrange zucchini slices on the top of the tart.
Brush zucchini with olive oil using pastry brush and place tarts in the oven.
Bake for about 25 minutes, reducing heat towards the end of baking if edges of the pastry are getting too brown.
Remove from the oven, season with freshly ground pepper and serve to the plates.
For the main dish serve with plenty of salad on a side.
Serve 4 people.