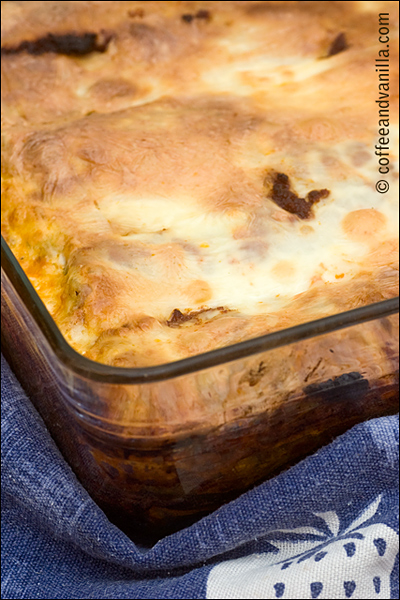 INGREDIENTS
3 x 200g tins of tuna (not drained)
2 onions (chopped finely)
400g tin of chopped tomatoes
250g / 12 sheets of lasagne verdi or any other lasagne sheets you have available (uncooked)
½ 190g jar of sun-dried tomato paste or pesto (or to taste)
2 tbs fresh or frozen chopped dill
250g mozzarella for pizza (grated)
3 small courgettes / zucchinis (ends trimmed, cut lengthwise with cheese slicer)
2 tsp sea salt
2 tsp garlic granules
1 tsp chilli flakes
3 tbs olive oil or Carotino
EQUIPMENT
oven proof dish – I used rectangular 23×27cm, 4 l Pyrex
large frying pan or wide pot to fry onions, tomato and tuna mixture
large piece of aluminium foil to cover the oven proof dish.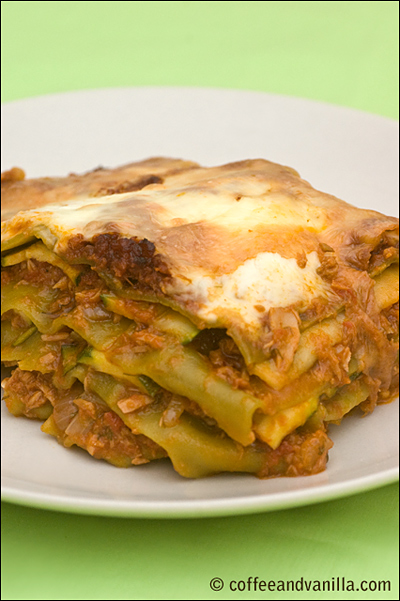 METHOD
Fry onions on 2 tbs of oil, until browned. Add tuna and fry for couple of minutes longer. Then add chopped tomatoes, sundried tomato paste, salt, garlic, chilli flakes, mix well and remove from fire.
With the rest of the oil grease bottom of the oven proof dish.
Make 3-4 layers or zucchini, lasange sheets, tomato mixture topped with grated mozzarella, you may leave a little bit more for the last layer to cover top with the cheese.
Cover the dish with aluminium foil and bake in the oven pre-hated to 200°C (392°F) for about 40-50 minutes, depending on how brown the cheese is and how much sauce lasagne has.
When lasagne is ready share to the plates and enjoy.
Makes 4 large servings.
NOTES
Depending from size of your baking dish you may need to arrange layers differently, the only important thing is to place zucchini slices before or just after each layer of pasta sheets because the water from zucchinis will make them grow. Also the first layer should not be pasta sheets because they may burn.
Tuna may be replaced with some minced meat such as turkey, but then it have to be fried with onions for longer, until it is not raw any more.