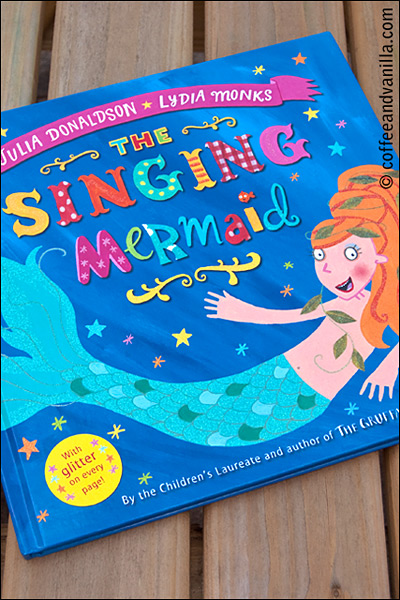 "The Singing Mermaid" is wonderful, well-written rhyming colourful book that makes kids join in and read along. I wouldn't expect anything less from Julia Donaldson, creator of so loved "The Gruffalo" and "The Snail and the Whale", just to mention few.
Lydia Monks' illustrations are beautiful and lettering on the cover pages very inspiring. After reading the book my 6 year old daughter was practising her "mermaid" letters for good few hours and now we are planning to turn her drafts into ex-libris stamp.
The story line itself is very engaging. It tells a tale of a mermaid who was tricked and enslaved by greedy circus owner. Eventually all ends well but the ending is quite surprising when the mermaid, who does not have legs, runs away…
Another good thing about this book is the edition: quality hard cover that will last for years. It has also glitter and shiny elements on all pages – something that children, especially little girls, adore.
The book is available through our Amazon.co.uk store.
"The Singing Mermaid"
AUTHOR: Julia Donaldson
ILLUSTRATOR: Lydia Monks
PUBLISHER: Macmillan Children's Books
FORMAT: Hardcover
SIZE: 286 x 284 x 10 mm
PAGES: 32
LANGUAGE: English
ISBN: 978-0230750449
PUBLISHED: 26th April 2012
My daughter said she would give it not only 5 but 6 stars if she could.
5 out of 5 stars
Disclosure: We have received this product free as a part of Amazon Vine™ Programme and you can find this article between our other reviews on Amazon website.