When I was growing up in Warsaw, there used to be Taco Bell near Rotunda, they served fries topped with cheese & chive sauce. Later on when I was working on the cruise ship I remember Papas Supreme from Taco Bell in San Juan, Puerto Rico. Unfortunately there is no Taco Bell restaurant nowhere near where we live in London so I tried to recreate those flavours from the past at home using healthier, oven baked fries…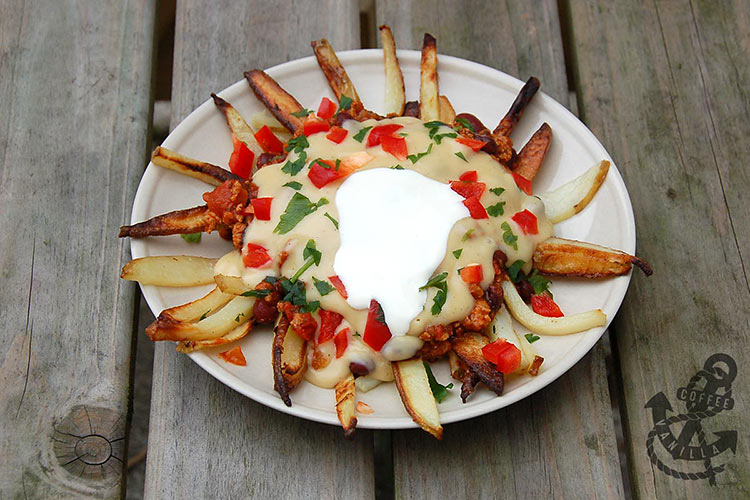 INGREDIENTS
for the nacho mince
400 – 500 g turkey mince
1 onion (diced)
2 tbs oil for frying
400 g tin of chopped tomatoes
400 g tin of red kidney beans or refried beans
½ cup of boiling water
2 – 3 tbs tomato purée
1 tbs smoked paprika powder
1 tsp soft dark brown sugar
1 tsp ground cumin
1 tsp dried oregano
1 tsp garlic powder
1 tsp chilli flakes – optional
salt – to taste
to serve
cheese sauce for fries and nachos (optionally skip the chive and use Red Leicester cheese for orangey colour)
handful of freshly chopped coriander
bell or red pointed pepper (diced) or even chilli pepper for extra heat
soured cream or crème fraîche
EQUIPMENT
3 large baking trays lined with baking paper
large pot or deep frying pan with lid to cook the mince
small pot / saucepan for the cheese sauce
METHOD
Put fries in the oven.
In meantime fry the onions on oil until browned.
Stir in turkey mince and fry some more.
Add rest of the ingredients and cook covered until meat is cooked through and sauce is not too watery.
Prepare also the cheese sauce.
Once fries are ready arrange them on the plates.
Top with some of the turkey mince.
Pour over cheese sauce.
Sprinkle over with peppers and coriander.
Finish off with generous dollop of soured cream.
Serves 4 – 6 people.
NOTES
Nacho mince is very versatile, it can be served not only with nachos, tacos (corn shells filled with mince, lettuce, guacamole etc.) but also inside burritos (tortilla wraps with mince and other trimmings).