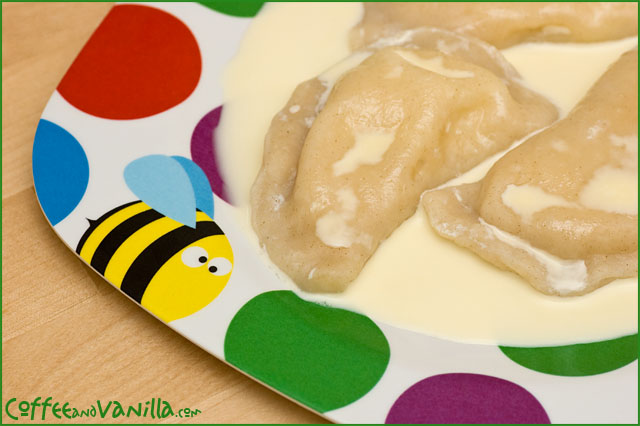 INGREDIENTS
for the filling
1 kg hard cottage cheese / curd cheese
2 large or 3 small eggs
2 tbs white sugar
vanilla sugar
3-4 tbs soured cream
2 handfuls of raisins – optional
2-3 tsp orange extract
salt
for the dough
5 cups plain flour
2 large or 3 small eggs
2 tsp salt
4 tbs soured cream
½ cup or a little bit more warm but not hot water
soured or double cream
more flour
sugar – optional
EQUIPMENT
rolling pin
METHOD
To prepare filling mash white cheese with eggs, sugar, soured cream and orange extract.
Season with salt and vanilla sugar to taste. Add raisins, stir well and leave aside.
If you can't find white cheese you can use ricotta instead, ricotta is very soft so don't add eggs or soured cream.
To prepare dough combine eggs with soured cream and salt, add flour and water gradually.
Roll out portion of the dough on floured surface with rolling pin to about 2-3mm thick, with round 8cm (about 3 inches) cookie cutter or large glass cut out circles. Each circle roll out a little bit more, place as much of the filling as you can in the middle, fold dough in half so the edges meet, seal using fingers or use pierogi maker if you have one. Make sure you seal it properly so pierogi will not fall apart during cooking. Place done pierogi on floured surface, make sure they are not touching each other because they will stick.
When you are ready to cook pierogi, bring large pot of water to boil, place pierogi inside, cook for about 3 minutes from the time they start floating on the surface. Drain.
Serve pierogi topped with soured or double cream (with some sugar added or not).
Cooking pierogi in pot of water is traditional method. I tried to cook them in frying pan with a little bit of butter and lots of water turning once and it worked as well. Frying pan method is better if your pierogi did not seal properly, this way they will not fall apart like they would during traditional method.
You can also leave raw pierogi to dry for couple of hours and then place them in a plastic bag and freeze till you are ready to eat them.
Makes about 55 pierogi.
Allow 6-8 per serving.