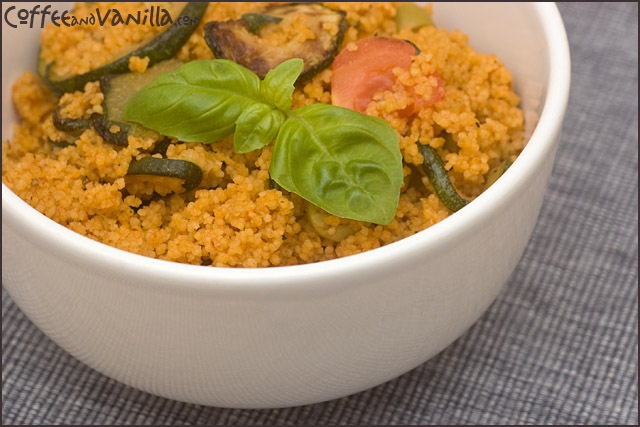 INGREDIENTS
350g couscous
2½ cups water
1 tsp dried oregano
60g (⅓ jar) sundried tomato pesto
500g courgettes / zucchinis – 2 medium ones (sliced)
3 tbs grape seed oil
2 tsp garlic granules
handful of pitted green olives (chopped)
vegetable stock granules to taste
handful of fresh basil leaves (chopped)
3 small fresh tomatoes (chopped) – optional
rainbow peppercorns
METHOD
In a large frying pan or wok fry zucchini on half of the oil till golden brown, leave aside.
Add rest of the oil to the frying pan, pesto, water, couscous, garlic granules and fry on low fire stirring constantly till all water is absorbed and couscous soft.
Add green olives, vegetable stock to taste and freshly ground pepper.
Remove from fire, stir in tomatoes and basil.
Serve warm.
Serve 3-4 people.