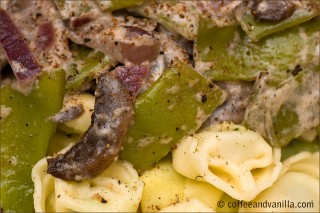 INGREDIENTS
500g button mushrooms (sliced)
400g flat beans (chopped coarsely)
1 large or 2 small red onions (chopped)
30g unsalted butter
800g spinach & ricotta tortellini
3 garlic cloves (chopped/crushed) or 2 tsp garlic granules
sea salt
ground nutmeg
1  (250ml) soured cream
black peppercorns
METHOD
In a large pot boil salted water for tortellini, once is boiling add tortellini and cook according the packet instructions, then drain and leave aside.
In wok or shallow pot place butter, mushrooms, beans, garlic and cook stirring from time to time until there is no more water. Add chopped onions stir fry for a while. Season to taste with salt and nutmeg. Remove from fire, stir in soured cream.
Share to the plates over tortellini. Sprinkle with freshly ground pepper and some more nutmeg.
Serve 4 people as a mine dish or 6-8 as a side dish or snack.