INGREDIENTS
for Smoked Paprika Chicken
1kg chicken cut into pieces (I used free-range chicken from Abel & Cole)
2 tbs Carotino oil
1 tbs smoked paprika powder
1 tbs garlic powder
½ lemon juice
for Moroccan Couscous with Grilled Peppers
500g couscous
3 onions (chopped coarsely)
2 tsp cumin seeds
2 tsp ground coriander
1 tbs paprika
2 pinches ground clove
1 tsp ground cinnamon
¼ tsp Cayenne pepper
½ tsp ground allspice
½ tbs garlic granules
2 tbs vegetable stock granules
3 tbs Carotino oil
3-4 bell peppers – about 500g (red, orange or yellow)
hot water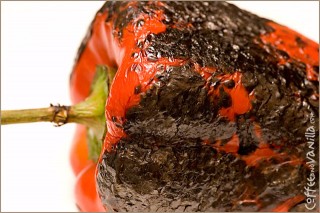 EQUIPMENT
baking tray for chicken
large frying pan or wok for couscous
long tongs to hold paprika over the fire
aluminum foil to cover tray with chicken
METHOD
Combine all ingredients for chicken, mix well and leave in a fridge for couple of hours.
Burn pepper skin over gas as much as possible and close them in plastic bag for about 15 minutes.
Then rub the skin off, it should come out easily. Remove insides and chop them.
Preheat oven to 170°C (338°F). Place chicken on the baking tray and bake covered until ready, in the last moment remove foil and bake some more until chicken get crunchy.
In meantime fry onions on oil, add spices and heat them for a while till they become fragrant. Stir in also couscous, garlic and stock granules and heat stirring constantly for a while. Add gradually hot water until couscous become soft but not soggy.  When couscous is ready stir in previously grilled and chopped peppers.
Share to the plates, top with chicken.
Serve 5 people.
Serve with "Garlic and Butter Lentils" or some salad on a side.

Rainforest-friendly chicken from Abel & Cole
Abel & Cole is launching its first free-range chicken reared using soya free feed.  Soya is a standard ingredient in chicken feed and is the major source of protein for growth, but concern is mounting that the widespread use of soya is contributing to the deforestation of the Amazon. To find a sustainable, environmentally friendly alternative, Abel & Cole has teamed up with Devon chicken farmer Peter Coleman.  Peter is an expert in animal nutrition and a passionate nature lover.  He was inspired to create a soya free feed after visiting the Amazon and seeing the impact of deforestation first hand. Not only is the new feed rainforest-friendly, it is rich with British ingredients.