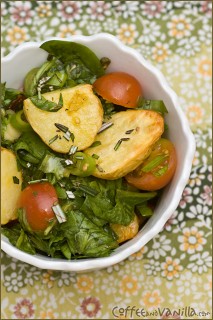 INGREDIENTS
500g baby potatoes (halved or quartered)
1½ tbs Carotino oil or olive oil (Carotino gives nice orange colour)
300g cherry tomatoes (halved)
200g baby spinach leaves (chopped)
3 spring onions (chopped)
1 tbs olive oil
1 tbs balsamic vinegar (if very sour, ½ tsp soft dark brown sugar added)
2 fresh sprigs of rosemary, leaves only (chopped)
sea salt
black peppercorns
METHOD
Mix potatoes with Carotino oil and bake in the oven preheated to 180°C (356°F) until golden brown, you can turn on grill option towards the end to make them more crunchy.
In meantime in a large bowl combine spinach, tomatoes, onions, rosemary, olive oil and balsamic vinegar. Season with salt and freshly ground pepper to taste. Stir in baked potatoes and serve immediately.
Serve 4-6 people as a side dish.