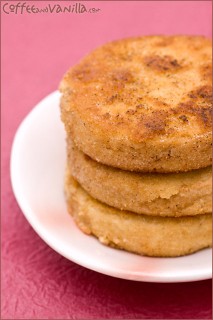 INGREDIENTS
550g tin of pressed cod roe
1 cup of fine bread crumbs
3 small eggs (slightly beaten)
sea salt
black peppercorns
garlic granules
50g unsalted butter to fry
METHOD
Remove cod roe from the tin and slice into 10 pieces.
Season them with freshly ground pepper, garlic and salt.
Deep each slice in egg, then bread crumbs and and fry on butter on both sides until golden brown.
Serve 4-5 people.
I served it with pasta sprinkled with some chopped spring onions and  green salad on a side.