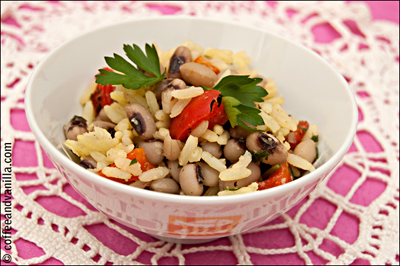 INGREDIENTS
500 black eyed beans (soaked overnight)
1½ cups easy cook rice
3-4 red, yellow and orange bell peppers
salt
handful chopped parsley
garlic powder to taste
4 tbs butter or olive oil
EQUIPMENT
tongs to turn peppers
container with lid, plastic bag or bowl and a plate
gas cooker
pot with cover to cook rice
large pot to cook beans
METHOD
Cook rice with 3 cups of boiling water, covered until ready. Leave aside.
Cook also previously soaked blacked eyed beans, in fresh, unsalted water removing and scum that is creating on the top of the pot.
In meantime burn peppers over gas until each side is black. Place in container, cover with lid (or close in a plastic bag) and let them steam for about 10-15 minutes. Rub of with your hands some burned skin, but not all. De-seed, cube and leave also aside.
When beans are ready drain them, add roasted peppers, rice, parsley, butter or olive oil, salt, garlic powder and Maggi sauce to taste and enjoy while still warm.
Serve 6-8 people as a side dish.
NOTES
Taste great with smoked "ready to eat" mackerel on the side.
Add some more butter or olive oil if the salad is eaten alone.
I wish my extractor was working better because roasting peppers can produce quite a big amount of smoke. I was wondering how could I get mine cleaned as it does not seem to extract anything anymore… Do you have any tips on cleaning kitchen hoods? I tried all kind of household cleaners but it is still very greasy and sticky. Or maybe I should get new one like this instead: Baumatic BT6.3GL Chimney Cooker Hood? Looks so pretty and easy to clean ;)
Disclosure: this article include some sponsored links.