[recipe has been adapted from: Kura Domowa]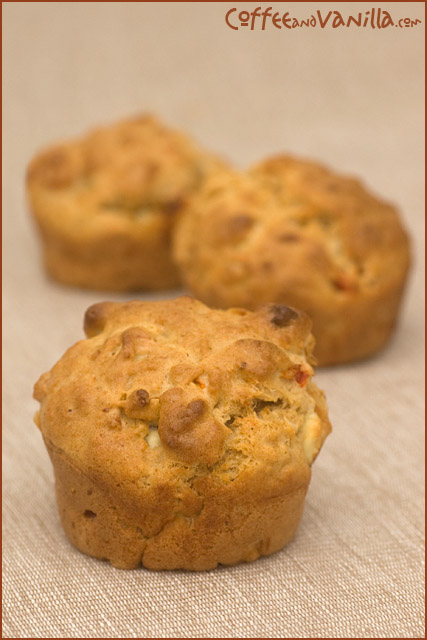 INGREDIENTS
2 large sweet red bell peppers
olive oil spray or olive oil
125g unsalted butter (melted and cooled down)
2 eggs (lightly beaten)
1 cup milk or a little bit more
200g feta cheese (cubed finely)
400g (3⅕ cup) plain flour
1 tbs baking powder
2 pinches ground black pepper
1 tbs paprika powder
½ tsp freshly ground nutmeg
½ tsp salt
EQUIPMENT
muffin tray
pastry brush or muffin cases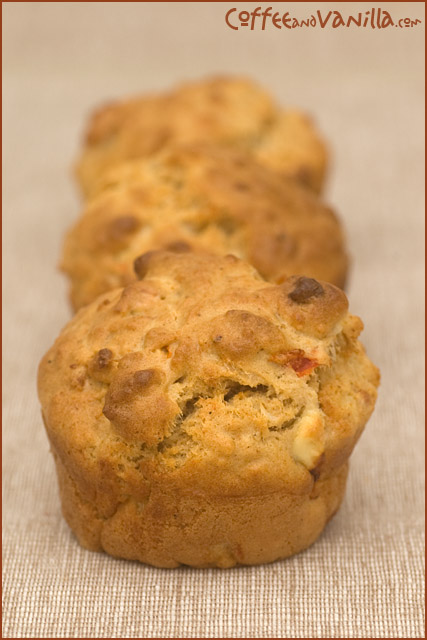 METHOD
Preheat oven to 180°C (356°F), spray peppers with olive oil and place in the oven for 30-40 minutes till skin start cracking and getting black. Remove from the oven and put into bowl with cold water, leave it in water for couple of minutes, then peel the skin off and chop peppers.
In meantime combine flour with baking powder and seasonings. Stir in feta and peppers.
Then add egg, cooled down butter and milk.
If dough is too thick add a little bit more than a cup of milk.
Spray or brush muffin tray with olive oil or fill with muffin cases and spoon out dough into the tray, filling it with the dough just to the tray level. Bake for 20-25 minutes in 210°C (410°F). Remove from the oven and leave aside for 10 minutes before removing muffins from the tray.
Serve cooled down.
Make 12-15 muffins.