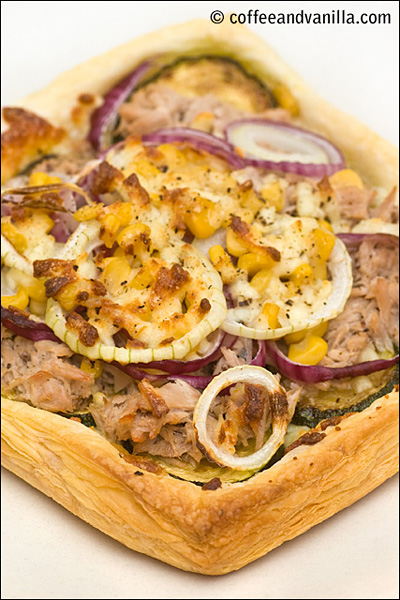 INGREDIENTS
500g uncooked chilled puff pastry square
200g mozzarella for pizza (grated)
1 courgette / zucchini (sliced) – can be skipped or replaced with more mushrooms
1 tbs olive oil to fry courgette
8 medium button mushrooms (sliced)
1 tbs unsalted butter to fry mushrooms
sea salt
½ tsp garlic granules
small 200g tin of sweet corn (drained)
400g tin of tuna in brine (drained) and/or optionally kabanosy (thin Polish sausages) or pepperoni slices
2 small onions – red & white (sliced, rings separated)
handful of sliced black onions – optional
black peppercorns
EQUIPMENT
4 sandwich trays (I used round ones) or 2 baking trays
frying pan
rolling pin
METHOD
Prepare all ingredients for the topping: fry courgettes on a little bit of oil until browned on one side but still crunchy.  Then on the same frying pan fry mushrooms on butter until golden brown, season with a little bit of salt. Grate mozzarella, drain corn and tuna, season the second one to taste with some salt and garlic granules, slice onions.
Preheat oven to 180°C (356°F).
Divide puff pastry into 4 squares (or 16 squares if for children).
Roll them out with the rolling pin until about 4mm thick. Place them on sandwich trays. Sprinkle with half of grated mozzarella. On the top place tuna (or/and pepperoni), courgette slices, mushrooms, onion rings, sweet corn, olives and the rest of mozzarella. Season with freshly cracked pepper.
Bake in the oven for about 20 minutes or until pastry is puffed up and golden.
Serve immediately with some simple fresh salad on a side.
Make 4 large pastries or 16 mini ones.
I served it with lettuce, tomato, cucumber, olive oil and balsamic cream salad.
I usually divide pastry into 4 squares, from which one I divide again into 4 to make small pastries for my daughter, which she can also take to school in her lunchbox next day.